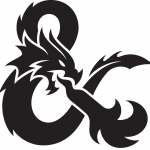 Back in November 2016, I announced that I worked on In Volo's Wake to celebrate the release of Volo's Guide to Monsters. The adventure was first released at GameHoleCon for D&D's Adventurer's League, and was then available to play as as a store exclusive.
I'm happy to report that In Volo's Wake is now available for all fans of D&D! This set of adventures was designed for beginner players; there are tons of notes for DMs to draw from to modify encounters and have a little (hopefully a lot!) of fun.
The town of Phandalin, nestled in the foothills to the east of the Sword Mountains, continues to grow since being rebuilt after the devastation wrought by rampaging orc hordes. It recently survived violent gang activity, drow machinations, and even the attention of a green dragon.
But can it withstand a new threat, bizarre but no less perilous: the fame brought by a visit from none other than loremaster Volothamp Geddarm?
If you're interested, you can hop on over to DMsGuild.com to purchase a digital copy of the adventure or through the Flamesrising.com Shop. I'm sure your fellow adventurers would love to hear your thoughts on this adventure, too, if you get the chance to play it. Enjoy!