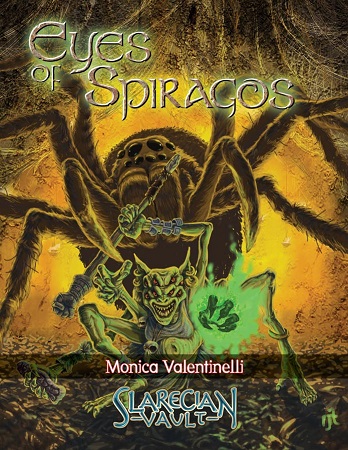 Eyes of Spiragos is a Scarred Lands adventure that takes place after Gauntlet of Spiragos on the Fangsfall Peninsula on Ghelspad. This Slarecian Vault scenario has been written and designed by Monica Valentinelli, the co-developer of Dagger of Spiragos and Ring of Spiragos, to deepen the impact of later events and uncovered secrets in this Spiragos-themed series. Typesetting and layout design was performed by Scarred Lands developer Travis Legge.
During the introductory adventure, Gauntlet of Spiragos, the PCs uncovered titanspawn artifacts. With the discovery of these unholy relics, the PCs faced an uncomfortable truth: Though the War between gods and titans is over, true evil lingers still. The events in Eyes of Spiragos deepen their understanding of what that revelation means and how they can overcome its taint.
Eyes of Spiragos is a three-chapter adventure optimized for 3rd level characters. It includes suggestions for further setting and rules modifications for ease of use. Gameplay is flexible but has one, narrative requirement: The PCs must have played through Gauntlet of Spiragos. It is also strongly recommended this scenario is completed prior to the finale: Ring of Spiragos.
The horror in Eyes of Spiragos is primarily physical and psychological to build off of the spider-themed elements introduced in Gauntlet of Spiragos, and to foreshadow what awaits them in future adventures.
Rules and setting information are drawn from the free, introductory adventure "Gauntlet of Spiragos" and the Scarred Lands Player's Guide. Recommendations drawing from Creature Collection have also been included for a strong, thematic tie and to flesh out options for new encounters.
Eyes of Spiragos is now available on DriveThruRPG.com for $2.99.