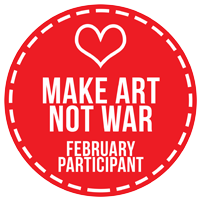 The end of February is upon us, which means it's time for another month-end recap. First, I want to circle back to my original pledge to share with you how I did. This month's theme was ORGANIZE; it was designed to make way for new projects, assess materials/inventory, and get everything sorted.
Let's see how I did!
My Make Art Not War 2017 Challenge pledge:
I pledge to devote one hour a day to my original art.
I averaged about a half an hour per day this month, and wound up planning longer sessions for make-up time. This was due, in part, to this month's organizational activities which ended up being a bigger time sink than I originally anticipated.
As I started going through stuff, I encountered brain weasels that threatened to de-rail me. Those trips down memory lane were Not FunTM, because I focused on the shoulda/woulda/coulda's and not on using the past as a jumping off point. This added a layer of time as I recognized I was dealing with stuff, and that slowed me down a bit.
If I don't feel motivated, I pledge to write down the reasons why I wanted to take this challenge for fifteen minutes or one-to-three pages whichever comes first.
I did not have a problem with motivation, so this didn't apply.
I pledge to mark down on the calendar whenever I complete a day's efforts.
Ahhhhhhhhhhhh, this I didn't do. I forgot my own advice: celebrate my accomplishments no matter how small!
As the challenge creator, I pledge to create a weekly accountability post every Wednesday beginning on January 9th. Comments will be open. Hashtag #makeartnotwar2017 #manw2017
Yep, I did do this! Some participants are popping in and out, and I've noticed that some folks are getting sucked into the news as well. Plus, we're adding some new folks here and there. That's normal. My goal is to remain a constant this year: I, along with this challenge, will always be here to inspire, motivate, and keep you going.
I pledge to check into social media twice a week for personal use, and once a month with my local community of artists and writers.
My social media usage changed quite a bit after I made some decisions last month, and they continued to evolve as I focused on Life, The Universe, and EverythingTM. I spent a lot of time on what was happening in my own backyard, and did not add my social media accounts back onto my phone. I managed to get one quarterly group meeting for creatives off the ground, made sure I was up-to-date on convention planning, and only had one or two weeks where Art Night didn't go as planned. I also added a new website blocker that's active during work hours; this allows me to focus and find better things to do when I need that five-or-fifteen minute break.
February Recap: ORGANIZE
I spent a lot of time taking stock of what I had and where I wanted to go next. Out of this, I planned a bunch of projects and identified which specific things I needed to do and acquire. I got my proverbial shit together, bought some reference books, and know exactly what I have to do in order to move forward.
Some "Idunwannadoit" projects, like filing, are going to take a while. I started to go through The Black Hole That Is My Office ClosetTM and did make some headway there, and assessed my art supplies to have a clear picture of what I can make with what I have. My beading supplies are going to take a lot longer to inventory, because I discovered another box I had stashed away. Plus, I do want to finish a few statement necklaces for the conventions I'm attending. I am, however, not going to make the mistake of letting this stuff slide or saying "I'll remember!" I'm regarding these projects as work-related, so they are being broken down further.
I also went through a lot of my digital spaces and got those cleaned up. Plus, I started relying more on Google Calendar and Wunderlist, and that helped a ton! The nice thing about both of these tools, is that I can sync up my work/life activities and get valuable reminders popping up on my phone. The only thing I don't like about Wunderlist, is that it takes 12 hours to sync with GCal; everything else about it is pretty slick.
What I've Learned Thus Far
January was a great warm up for this year-long initiative, and February allowed me to really dig in and make a push for my own art. I have learned a few things along the way about this project's affect on my psyche, and I'd like to share them with you.
My mental health dramatically improves when I'm not connected twenty four hours a day, seven days a week. Going outside for walks helps a lot!
My fear response is to summon Ryan Reynolds, and I've been channeling him a lot lately.
To prevent modeling (e.g. plotting out what will happen in the future to be prepared for it), it's important to focus on the "now". What can I control, what can I affect, how can I help.
Shouldering an emotional burden isn't just overwhelming, it is work. Managing your emotions is one-hundred and fifty percent emotional labor that impacts everything from your personal to your professional life, and that requires awareness and trouble-shooting to figure out how to deal with that.
Making my own art has allowed me to dream big again–even in this charged environment. I want to do such a great job people will gladly pay money for the end result, and being aware that making art is work helps me value my efforts more.
I'm reminded that not everyone has the same goals, passion, or drive that I do–and that's okay!
There is no better place to find inspiration than in the life I'm living and have lived.
Being uncomfortable is a sign I'm on the right track.
Small measures of resistance still matter.
Hope is one of the most underrated and unique emotions we can experience as human beings.
I can't wait to see how this year shapes up. It's a lot to process after only two months of the challenge, but I can feel the change on a cellular level. How about you? Did you have a good time making art in February? Was the theme something you embraced? Or did you avoid it altogether? On Wednesday, I'll be kicking off March's new–and super fun–theme! Rest well, and don't forget to congratulate yourself on another awesome month of making art!
Mood: Zen with a side of Zzzzzzzzz's.
Caffeinated Beverages Consumed: Ummmmmm… I think two?
Work-Out Minutes Logged Yesterday: Walked a few steps.
In My Ears: Xerxes, HWV40: Ombra mai fu (Largo)
Game Last Played: Dragon Age: Inquisition
Book Last Read: Reference for work
Movie/TV Show Last Viewed: Trevor Noah's Netflix Special
Latest Artistic Project: Make Art Not War 2017 Challenge and Rules
Latest Releases: In Volo's Wake for Dungeons & Dragons 5th Edition. Read my end-of-the-year list of releases for an overview of what I've put out for 2016.
Current State of Projects: Read my latest project update. New project update coming this month!