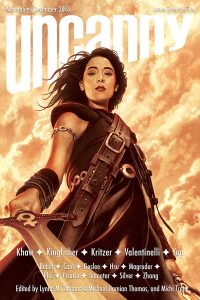 Hey readers! Today I'm pleased to inform you that Uncanny Magazine Issue 25 in all its beautiful glory, is now available for you to read online. My short story, "My Name Is Cybernetic Model XR389F, and I Am Beautiful", went live today along with "The Thing about Ghost Stories" by Naomi Kritzer.
There are a LOT of great stories, poems, and essays in this issue which also includes "How to Swallow the Moon" by Isabel Yap, "An Account in the Land of Witches" by Sofia Samatar, "Smile" by Beth Cato, "Monologue by an unnamed mage, recorded at the brink of the end" by Cassandra Khaw, and a primer for Jewish Science Fiction and Fantasy by Steven Silver.
For the full Table of Contents, ways to support Uncanny Magazine, and free-to-read stories, poetry, and essays, you can visit Uncanny Magazine Issue 25. Huzzah!