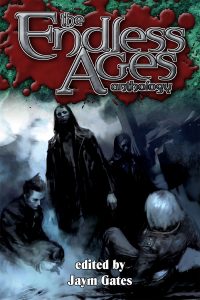 Have you picked up your copy of Endless Ages yet? If not, today's post gives you a little bit of insight into my inspiration behind "Redder Than Red". Happy Halloween!
What Motivated Me to Write Redder Than Red
When I was working on Dread Names: Red List, Matt (McElroy) and I would speculate which Anathema would be the first to get caught in the modern era and why. Often, Ayisha Jocastian's name would pop up because she represents a direct threat to the Masquerade. As an Anathema, Ayisha is unique in the sense that she believes that the consciousness of the vampires she has consumed are directing her actions, but she is also a political threat because her zeal to reproduce and distribute the Book of Nod. Though Ayisha was already condemned to the Red List and could never be removed, she is an active threat who will not stop committing diablerie, nor will she stop sharing vampiric secrets with mortals.
My story, which is titled "Redder Than Red", is written from the perspective of a Malkavian named Rebecca Fleischer whose childe was diablerized by Ayisha. Rebecca suffers from a form of Obsessive-Compulsive Disorder called Arithmomania, which means she has a fundamental need to count. I felt this would be a good mental illness to help illustrate what Rebecca is feeling and seeing, and gets away from the stereotypes that plague members of Clan Malkavian and undermine their potential in a story.
Together with Ventrue Alastor Stephan Ashworth, the two Kindred drive to a warehouse to confront Ayisha Jocastian once and for all. Stephan adds some setting heft to the story, as both Alastors and Anathema are part of the rich lore associated with the Red List, but he also offers a dynamic to show this fight isn't between two vampires. For Rebecca, however, her desire to take down Ayisha is personal; losing her childe is a powerful motivator for vengeance.
I hope your thirst for vampire fiction will draw you to "Redder Than Red". This story was a lot of fun to write, and I enjoyed taking on this aspect of Vampire: The Masquerade for the modern era.