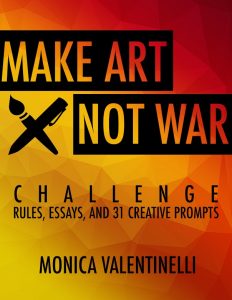 It's been about two years since I self-published the Make Art Not War Challenge: Rules, Essays, and 31 Creative Prompts ebook following a year's worth of posts to help keep people motivated and focused on making art, and approximately a year since we booted up a micro-community with this spirit in mind. I've had some time to think about my next steps for this program that I wanted to share with you.
Right now, it doesn't make sense to give this a huge push as an online movement. A lot of online spaces are experiencing a ton of changes for reasons ranging from algorithmic bias to a drop in types of usage, etc. So many people feel so overwhelmed, they're sticking to the basics and exploring local, existing, private spaces. I suspect we'll see this happen even more going into an Election Year. Mind you, my intent was never to make this Monica's MANW Challenge, because that's not the reason why I started this.
My dream for the Make Art Not War Challenge is to create spaces where the arts are accessible for people to explore music, literature, art, etc. regardless of their identity or income while getting guidance to learn how to build a career or seek employment in the arts. I am not the only one who has this vision; to put something like this in motion (on the scale I'm picturing) I'd need a significant amount of resources/money to build (both on and with) existing programs that exist for specific arts and verticals. It doesn't make sense to create something brand new that doesn't take into account the work wonderful community leaders, educators, and professional organizations are already doing.
This is not the time for that initiative, either. I've come to the realization that no dream of mine can be realized until I finish securing my own oxygen mask. There may come a point when I have the resources/money available, either through a donor or other means, to turn that around but for now? It's just a gentle whisper until the time is right.
If you're reading this and you're struggling, I want you to know that you're not alone. Though I've been keeping my head down on Twitter (and I'm mostly off of Facebook other than the occasional, ridiculous quip), I do pay attention to the vibe. If it's any reassurance, what's happening in the world is having a profound effect on everyone in both small and big ways from feelings of guilt for pursuing your dreams to being shell-shocked by the increasing amounts of vitriol online and off–not to mention all the personal stuff everyone has going on. It's a lot for anyone to manage!
That's it for me right now. In closing, I want to add simply this: if you can't find the light in the darkness, become one. Shine.