Hello everyone!
I am excited to share my WisCon 42 schedule with you today. The guests of honor are Saladin Ahmed and Tananarive Due. I hope you will join me for my reading on Sunday!
Saturday, May 26 2:30-3:45 p.m. Geekiness and Productivity University B
Moderator: Rachel Kronick. With Becky Allen, Catherine Krahe, Allison Morris, Monica Valentinelli
Capitalism tells us that we are only worthwhile when we produce or when we consume. As a result, many of us end up justifying everything we do, whether for work or pleasure, in terms of "productivity": "I'm useful to society because I make widgets." "My crafting/stargazing/gaming/reading/writing make me work better and consume more." "That person is a better geek than me because they spend more money on their hobbies." These kinds of framing buy into and reinforce capitalism. Are there ways of framing geeky pursuits that don't buy into a capitalist framework? Are there ways of justifying our geeky pursuits that don't commodify them? Are there ways to avoid needing to justify our geeky sides at all?
Sunday, May 27 1:00-2:15 p.m. Smash the Patriarchy Reading at Michaelangelo's
Naomi Kritzer, David D. Levine, Monica Valentinelli, LaShawn M. Wanak
Powerful stories can move mountains and shatter glass. This reading is not for the faint-of-heart. The stories will unsettle you, make you uncomfortable, force you to think and feel. Come for the stories. Leave with possibilities.
Note: I will have swag bags at my reading that will include this! You'll have to come to find out why!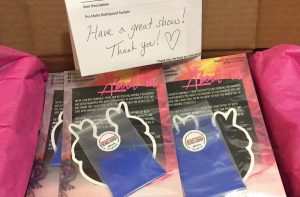 Sunday, May 27 2:30-3:45 p.m. Why Do Gender Neutral Things In Games Get Gendered As Masculine?
Moderator: Rachel Kronick. With Kel Bachus, Tanya D., Jack Evans, Jed Hartman, Monica Valentinelli
Watch a "let's play" and you'll soon see a lot of gamers gendering non-gendered things — humans with non-declared genders, fish, trees, basically anything or anyone that moves — as "guys" or "he". NPCs in tabletop RPGs quickly get gendered as masculine if the GM doesn't explicitly declare them otherwise (and a lot of GMs forget that non-masculine genders exist). A lot of gamers generally tend to fall into masculine-default mindsets while gaming. Why does this happen, and how do we stop it?
Monday, May 28 11:30 a.m. to 12:45 p.m. The SignOut Capitol/Wisconsin
Saladin Ahmed, Becky Allen, Eleanor A. Arnason, K. Tempest Bradford, Sue Burke, Kristi Carter, Nino Cipri, Loren W Cooper, Meredith Dillman, Timmi Duchamp, Tananarive Due, Anthony W. Eichenlaub, Jack Evans, Rhea Ewing, Karin Gastreich, Andrea D. Hairston, Alex Iantaffi, Vylar Kaftan, Naomi Kritzer, Rebecca Kuang, David D. Levine, Dale Cameron Lowry, Mary Anne Mohanraj, Nancy Jane Moore, Pat Murphy, Beth Plutchak, Cath Schaff-Stump, Nisi Shawl, Sheree Renée Thomas, Amy Thomson, Monica Valentinelli, LaShawn M. Wanak, Sunny Moraine