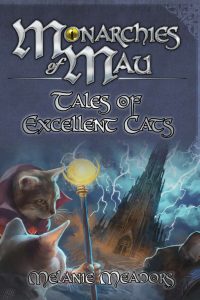 I'm so excited today! I have a new short story to share with you called "Arrows, Blood, and a Long Overdue Catnap". This short story is set in the fantasy setting Monarchies of Mau and is part of an anthology titled Tales of Excellent Cats. The main character, Zach, is inspired by my orange tabby. Nicknamed "Lord Lardbottom" due to his unique features, he is a polydactal manx and I love him dearly. He doesn't move around like most cats because he has no tail and extra toes–just like Zach in the story.
Preview of "Arrows, Blood, and a Long Overdue Catnap"
Zachary slumped against the side of the Sneakin' Inn to wait for his next client in the
alleyway. He'd have preferred to meet inside at midday instead of outside at sunset, but
while the Sneakin' Inn served award-winning mead, the noisy tavern was also a popular
destination for opportunistic thieves and spies. Zach hated all that cloak-and-dagger stuff
because he couldn't sneak around or pick a pocket — even if he wanted to.
No, Zach was good at two things, punching and napping, but only liked one of them. If
he could afford it, the older orange tabby would spend his afternoons dreaming about his
younger days, back when he was a lithe scrapper taking on those oh-so-proud members
of House Korat. He didn't have the fancy pedigree, house, or coin required to lie about in
his hammock all day. What he did have was an intimidating reputation. His closest friends called him "Lord Doglover" on account of his doglike meaty paws — seven digits on each one! — and extra heft in his tailless, round bottom from a love of dog mead. He hated the nickname, but he let his friends get away with it. When his massive fists landed a blow, most other cats didn't say much of anything.
Thankfully, Zachary figured out a way his unique "talent" could earn him enough coin
to keep his thatched roof from leaking. Being a guard for hire wasn't enough to get him
off a steady diet of dried cod and the occasional pinch of lake grass, though, not for a poor tomcat like himself. Oh, what he wouldn't offer to the Temple of the Nine for a freshly cooked hen? Or a smoked duck! But Zach wasn't the wishful-thinking type; he knew no amount of prayer could whip up an expensive feast. Coin was the only thing that mattered. He preferred to earn his coin legally, but sometimes he didn't have the luxury of picking his clients. Hopefully, Zach still had a few lives left. If not? Well, he didn't want to think about it. Nobody paid him to be a philosopher; his clients gave him coin to ensure their safety.
"Zachary? Von…Shadow?" A cloaked figure stepped from behind a stack of empty barrels, and the waning light of the sun behind them cast a long shadow as if to say: Be careful, Zach. This cat's not to be trusted.
To read the rest of the story, check out Tales of Excellent Cats from Onyx Path Publishing which was edited by Melanie Meadors. This collection of short stories is now available in multiple formats. You can grab a copy of this fun cat-themed anthology on DriveThruFiction.com, Amazon.com, and the Barnes and Noble Nook store.