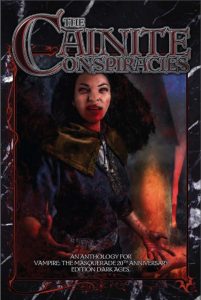 I am pleased to announce that The Cainite Conspiracies, a collection of fourteen stories set in the world of Vampire: The Masquerade Dark Ages is now available. Stories were written by these fine authors, which include exemplary storytellers and Vampire: The Masquerade developers past and present: Maurice Broaddus, Renee Ritchie, Justin Achilli, Russell Zimmerman, Andrew Peregrine, Catherine Lundoff, Eddy Webb, Jacob Klünder, Ree Soesbee, David A. Hill Jr., Alan Alexander, Richard Dansky, Danielle Lauzon, and Neall Raemonn Price.
In celebration of this release, three of our authors wrote about their stories. You can read about "Family is Family" by Renee Ritchie, "Sand and Dust" by Andrew Peregrine, and "A Quest for Blood" by Russell Zimmerman.
I hope you enjoy this collection. I had a lot of fun putting The Cainite Conspiracies together!