Hello, hello, hello! I hope you're doing well. Today, I'm happy to share with you part one of a two part project I'm working on. As you may recall, January's theme for my year-long creative challenge was "Play!" Last night, I tried a new technique I've never attempted before–watercolor! A few weeks ago, I wrote a poem about hope and decided to illustrate it. Thanks to my friend and comics professor Ursula Murray Husted, she suggested I do the lettering separately because I'm using cold press paper.
Before I get to my photos, I have a new Creative Prompt for you. It's all about spppppaaaaaaccccccceeeeeeeee!
Creative Prompt: Using NASA as Inspiration
Today's prompt is for all you writers out there. Did you know that NASA publishes a photo of the day? Photos are a fantastic way to get your creative juices flowing, because they act as an anchor to generate ideas. Sometimes, they post pictures of moons, astronauts, nebulas–oh my!
Using NASA's Photo of the Day as inspiration, write about that photo. You could:
Tell a science fiction story starring a heroic scientist or astronomer
Write a poem about how space is big. Reaaaaaalllly, really big!
Describe how you'd live on the surface of a moon
Create an alien ship or species that lives on a spaceship
Design a want ad for astronauts flying to Mars
Or, if you're all out of ideas? You could write a fan letter to NASA, instead. I'm sure they'd love to hear how wonderful their scientific exploration and efforts are, and how their photos inspire you!
From Watercolors to Nebulas
Since I wanted to try something new, I thought I'd post some pics to show you how I took my background over the finish line. New is scary–even for me! The first picture is of a background that I knew I was going to add stars to. I chose colors I might see in a nebula, to give the background a little dimension. The color does vary a little bit–I also learned that lighting makes all the difference in the world. Definitely need to keep that in mind for the future!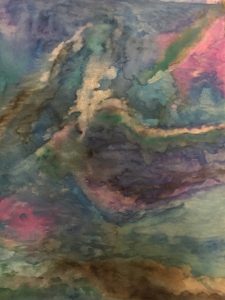 Step two was to add the stars. I thought about where the stars might be visible, since some gaseous clouds would be thicker in spots than others. To add a little dimension, my first instinct was to add two shooting stars (e.g. comets).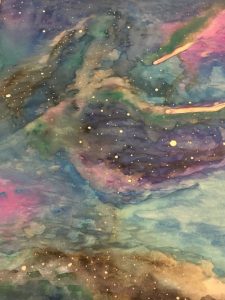 Ehhhh… I wasn't happy with that second comet, because the perspective felt off to me. I didn't want to paint over the whole piece, but I didn't think it worked, either. So, I decided to paint over it and add more black for more contrast. This is what it looks like before I added more stars.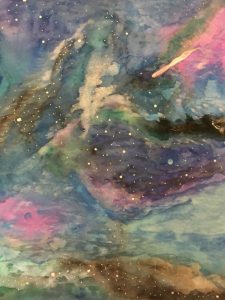 Annnnnnnd, voila! The final version! Believe it or not, this is a picture I took from my iPhone in much better lighting. I'm pumped, because I don't have to scan it and the photo really brought out the layers of paint I was working with. For part two of this project, I'm going to hand-letter my poem. You'll see that in a future post!