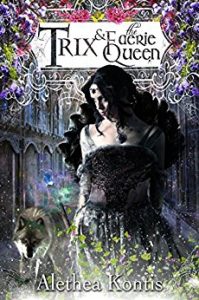 Every once in a great while, I run into someone whose hand gestures are as wild (if not more so) than mine are. Enter Alethea Kontis, who has written stories for kids, young adults, and crotchety old farts like myself. (Okay, I'm not all that crotchety or crypt-keeperish, but definitely not a teenager anymore!)
Kontis's versatility as an author is complemented by her efforts to generate and strengthen a sense of community between genre writers and artists. She is passionate in all she does, and that's definitely something I can relate to! What I like about her work, is the fact that she's the type of skilled writer who's easy to root for. When she goes to a convention, she puts on a show; her costumes, infectious laughter and larger-than-life personality are part of her stories as well. Combined, Alethea is magical and drawn to the light she's very much a part of.
When I think of Alethea, I consider someone who definitely has the "giant ball of knotted yarn" career path–a common journey for most of us. But, Kontis is also an example of someone who doesn't give up; she's the definition of persistence, and there's no doubt in my mind that, one way or the other, she will continue to generate the success she works so hard for. Knowing her, I'm guessing when more blessings land on her glittering tiara–it'll be when she least expects it. Won't her happily-ever-after be fun to celebrate!
If you're interested in her stories, check out Alethea Kontis on Patreon, her Twitter @aletheakontis, or visit the author's website at www.aletheakontis.com. You can also see what books are available via Alethea Kontis on Amazon Author Central, too.
Mood: Deadlines will either eat me, or they already have and I didn't realize they did.
Caffeinated Beverages Consumed: Uh… Four. No five!
Work-Out Minutes Logged Yesterday: Hunting Pokemon
In My Ears: Some whiny dude. Seriously, if this song gets any whinier about some topic I cannot make out, I'm going to start howling at the moon.
Game Last Played: Pokemon Go
Book Last Read: Kim Stanley Robinson's Aurora
Movie/TV Show Last Viewed: La Belle et la Bete.
Latest Artistic Project: Make Art Not War 2017 Challenge and Rules
Latest Releases: In Volo's Wake for Dungeons & Dragons 5th Edition, Unknown Armies Books 1-3, and Kobold Guide to Gamemastering.
Current State of Projects: Read my latest project update. New project update coming when I get time.