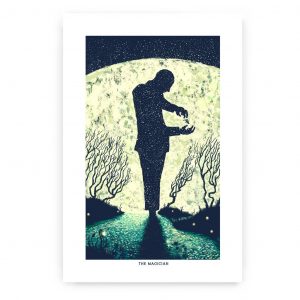 One of the things that I love about tarot cards, is that there are so many different ways to represent the images in a deck. I collect them and, of all the decks I have, one of the most unusual and beautiful is the Prisma Visions tarot designed by James R Eads.
The Major Arcana image of The Magician doesn't do this deck justice. James is known for playing with light, and his style really shines through in a tarot deck. What's really cool about the Prisma Visions tarot, besides the silver edging and the lovely box, is that each suit has also been illustrated as a panoramic piece. To see all four suits illustrated in their entirety, James offers full-size panoramic prints. I have a smaller print of the Ace of Swords, and I love the quality and theme he uses to breathe magical life into the suits.
In addition to the Prisma Visions tarot, which is the second deck he's designed, James also offers prints and stickers of his illustrations as well. If you dig his art, you're not alone! James also creates beautiful posters for bands and other gigs, too. He has a lovely portfolio, and I'm glad I have a little piece of his talented works.
If you're interested in this artist, visit the official website of James R Eads or follow James R Eads on Tumblr.
Mood: Convention Fevah!
Caffeinated Beverages Consumed: There's really no point counting while at a convention.
Work-Out Minutes Logged Yesterday: Hunting Pokemon
In My Ears: Hustle and Bustle
Game Last Played: Pokemon Go
Book Last Read: Kim Stanley Robinson's Aurora
Movie/TV Show Last Viewed: X-Men Days of Future Past.
Latest Artistic Project: Make Art Not War 2017 Challenge and Rules
Latest Releases: In Volo's Wake for Dungeons & Dragons 5th Edition, Unknown Armies Books 1-3, and Kobold Guide to Gamemastering.
Current State of Projects: Read my latest project update. New project update coming when I get time.