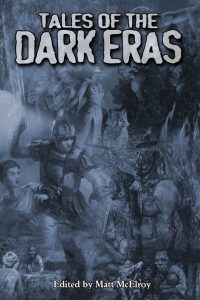 "Suffering of the Unchosen" was a short story I wrote for Tales of the Dark Eras to highlight my take on the Salem Witch Trials for Hunter: The Vigil in Dark Eras. In Doubting Souls (1690-1695), I set the stage for a setting in which monster-hunting players have trouble figuring out who the real monster is. This story is representative of one take on Doubting Souls; that era has a considerable amount of setting information in and around Salem Town and Salem Village following months of research. Some of the resources I pulled from are also listed at the end of that chapter as well.
My story ties into that theme by presenting a main character, a grieving widower and father, who wants nothing more than to exact justice on the hunters who murdered his family. Whether or not his anger is justified is something you'll have to find out should you read the entire tale.
For now, though, I hope you enjoy this excerpt from "Suffering of the Unchosen".
Suffering of the Unchosen
I was but a simple farmer whose tender son once planted seeds in barren, rocky soil, whose sweet wife once gathered berries, herbs, and mushrooms in the forest, whose family once led a trouble-free life surrounded by our cousins and neighbors in Salem Village.
Now, that life — the life of William Mansforth — is over. Though it is by some miracle I still draw breath, the rest of my family was tragically murdered a few nights ago.
I found their smoldering remains after I had returned home, battered and bruised, for I had been robbed by petty thieves earlier that day. Upon witnessing the horrible sight of my wife and child blackened beyond all recognition, I sank to my knees in despair, for everything I owned and loved had been ripped from me in a mere day's time. My purse had been stolen, my cabin and tiny plot of land had been sanctified by fire, and my wife and son had been tied to the stake and burnt alive.
In truth, I had not the eyes to see the pyre for what it was — a ruse — for I was preoccupied with guilt. What could I have done to save them? My beloved wife, Mary, and my adopted son of five years, William, were unjustly murdered and judged as witches for all to see. They were no devil-worshippers! Questions plagued me; each was a pox upon my mind. If I stayed the night, would their murderers return and end me, too? Would I know the faces of the townsfolk who took two innocent lives? Or, was this the Devil's Hand at work?
With an aching heart, I slept at the foot of that grisly sight, whispering prayers for their wayward souls, so that the spirits of my wife and son would not lose themselves in sorrow. Our cabin's logs heaped upon the pyre still burned slow and hot; their orange embers provided warmth and kept the cold dew from settling on my skin. There I slept on the hard ground, inhaling and holding the dwindling smoke of that wretched fire in my lungs, begging for death. Who could have done such a thing? Who dared to commit murder and walk free?
At my wit's end, I could no longer feign sleep. Instead, I sat up, pulled out my hunting knife, and sliced my open palm. I was careful not to wince as I did so; the pain was sharp, but lingering. It reminded me that whilst my wife and son were dead I was, by God's miraculous Hand, still alive. So in this fevered state, I forged a pact with Him in my own blood, to shine His light into the darkest recesses of men's most murderous hearts, to ensure my family's killers were justly judged — even if their capture would come at the cost of my own life.
"William…"
"Mary?" I knew not if her voice was inside my head, or if it was calling to me from between the trees. I yearned for her and hoped her ghost was a divine messenger. I shouted into the open air: "I am frightened, Mary. Is that you?"
"Here, William. Look to the great oak!"
I did as the voice bade, and saw a vision of Mary made whole, standing in front of the tree where we first met. Her naked body was shrouded in fine translucent robes, her long golden-brown hair flowed wild and free, and her kind brown eyes were just as merry as I remembered. She stood apart from me at a distance, but near enough so I could tell she was not a figment of my imagination.
"I am sorry, Mary. I was robbed, wife. Beaten and robbed!" I tried to beg her forgiveness, but my tongue was stuck. "Had I gotten home sooner…"
"William, you must listen carefully to me now. I have naught but a few moments, and I must tell you a secret…"
I fell into a fever-dream, half-drunk at the sight of her, wondering if I had finally gone mad. Was her spirit Heaven-sent or Devil-born? For precious few moments, I wondered if my wife truly was a witch. Then her words stuck to me like thistles, and they held fast.
"…three innocent babes, stuffed with herbs and dressed in linen, buried beneath the church by my late husband. I was the only one alive who witnessed were they were buried…and who killed them…"
"Who did this to you, Mary?" My voice was raspy, and I struggled to speak. I had to know. "Who slaughtered you and our dear boy for the sake of this knowledge? Who?"
"They call themselves hunters."
Tales of the Dark Eras is now available now on DriveThruFiction.com. Each story in this collection tackles a different historical era, and offers a look into vampires, changelings, werewolves and more featured in the Chronicles of Darkness game line. Watch for upcoming news about additional platforms!