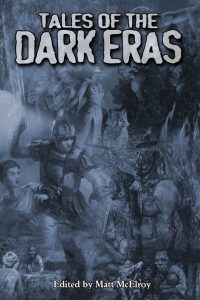 Today, I am pleased to announce that Tales of the Dark Eras, a collection of alternate history stories inspired by Dark Eras, is now available. I wrote a Hunter: The Vigil story set in the early 1690s called "Suffering of the Unchosen", about a distraught father who has accused the local hunters of killing his wife and child near Salem Village. Motivated by his grief and anger, the local farmer intersects with the Knights of Saint George to bring his family's murderers to justice…or so it seems.
Walk through the ages…
As a companion to Chronicles of Darkness: Dark Eras this anthology reveals secrets of the mystics, whispers rumors of the dead, and shines a light into the darkest corners of the world.
Tales of the Dark Eras includes historical stories based within the shadowed past of Vampire: The Requiem, Mage: The Awakening, Werewolf: The Forsaken, Changeling: The Lost, and other Chronicles of Darkness settings.
In the Chronicles of Darkness…
Explore the shadows with tales by Howard Ingham, Malcolm Sheppard, Pete Woodworth, Renee Ritchie, Jess Hartley, Monica Valentinelli, Danielle Harper, Matthew McFarland, Mike Tomasek, Eric Zawadski, Meghan Fitzgerald, and Dennis Detwiller.
Tales of the Dark Eras is now available in print and digital!