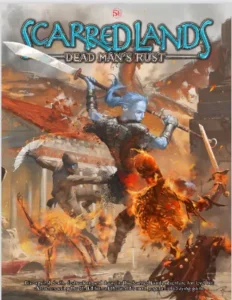 Hello, dear readers!
Today I'm excited to celebrate the release of Dead Man's Rust. It's a Scarred Lands campaign, set in a post-apocalyptic fantasy world, that's compatible with 5th edition. Developed by Travis Legge, I'm one of many contributors who wrote for this campaign book packed with narrative value.
"Welcome to a broken world, a place where mortals try to eke out a simple existence within these Scarred Lands. Not long ago, the gods and titans clashed in a war that ripped the earth asunder. Now, the titans lie defeated and the divine victors have retreated to the celestial realms, leaving their mortal followers to settle disputes among one another. This is not a peaceful time — far from it. Belief is not as simple as it once was when the gods regularly walked the lands, and nations eye one another's resources as they embroil themselves in wars and conquest in the wake of the Titanswar.
However, there is still some brightness in Scarn. There is hope of rebuilding a world where all people can live together in peace. Within the Broadreach Horizon, bucolic villages come together in solidarity; within Leoni, people of all creeds celebrate under one banner. However, there is also fear that the world will fall into greater darkness. The question is, how will your heroes influence what comes next?" — Dead Man's Rust: Introduction, pg. 6
Keen on picking up a copy of a detailed campaign book filled with sidequests, lore, loot, and so much more? Head on over to DriveThruRPG.com where you'll find the Scarred Lands Player's Guide and Scarred Lands: Dead Man's Rust in both digital or print.
If you're brand new to the Scarred Lands, I also recommend checking out these 5th Edition-compatible adventures.
Gauntlet of Spiragos – You can download the introductory adventure for free and learn all about titanspawn artifacts and the creatures drawn to them.

Eyes of Spiragos – I designed this Slarecian Vault adventure and Travis helped lay it out. The story fits neatly in the timeline and strengthens connections to the remaining adventures.

Dagger of Spiragos – The players have retrieved two titanspawn relics—the dagger and ring of Spiragos—and are tasked with destroying them. I developed and contributed to this adventure but, like all my games, I'm part of a team.

Ring of Spiragos – On this team, I also developed and contributed to this adventure. It's the grand finale filled with gut-wrenching decisions and jaw-dropping scenes.
The Spiragos adventures are themed around the recovery and destruction of accursed titanspawn artifacts. Be prepared to fight off cultists, thieves, and more!