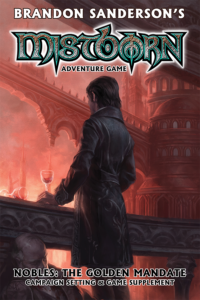 Of Gilded Words and Poisonous Tongues!
In the Lord Ruler's Final Empire, blood is destiny. A skaa birth condemns you to a hard life of labor and service. A Terris birth marks you forever as an outsider, an uncomfortable reminder of a bygone era. To be born noble is to live at the peak of political and social power, blessed with the potential for Allomancy — but it also means a life of vicious politicking, ruthless competition, and the perpetual risk of betrayal and ruin. As a noble Hero, you face the same question as all who defy this grim order: do you have the courage to shrug off blood and destiny, to stand against the brutality of this world, and fight for a better future… for everyone?
Nobles: The Golden Mandate is the final supplement for the Mistborn Adventure Game. Developed in cooperation with Brandon Sanderson and Dragonsteel Entertainment, this book dives deep into the history and intrigues of Mistborn's most notable families, from the ten Great Houses who dominate the halls of power to the up-and-coming Lesser Houses that forever nip at their heels. This essential guide melds information from the novels with background developed for the Mistborn: House War board game to form a rich environment for storytelling in the cutthroat world of the Final Empire's nobility.
For players of the Mistborn Adventure Game, this supplement offers extensive guidance for playing a rebellious noble Hero, adding nobles to a skaa thieving Crew, and exploring what it means to defy the Lord Ruler. Also included are new rules for creating Noble Heroes: Traits, Stunts, and a new Power, Family, which lets you bring the full power of your name to bear in cunning and creative ways. For nobles with a more daring streak, there's also new background information and character options for playing an elite, Allomancer-hunting Hazekiller!
For Narrators, an exciting multi-session adventure titled "Thieves in the Ninth House" takes your Crew to the Eastern Dominance, where they're hired to liberate an honor hostage from the clutches of House Urbain. This seemingly simple job soon proves to be anything but, for in the world of Mistborn there's always another secret…
Nobles: The Golden Mandate is not a complete game. You need a copy of the Mistborn Adventure Game, some dice, and imagination to play.
Who the Book's For
Fans of the Mistborn novels and the Mistborn: House War board game; players and Narrators of the Mistborn Adventure Game; or gamers who love RPGs of politics and intrigue like Amber, Houses of the Blooded, or Vampire.
Important Notice
Mistborn Adventure Game Digital Editions will no longer be available after December 31st, 2023. Get them now or they're gone forever.