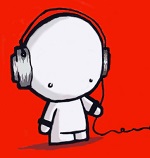 One of the issues I see pop up with respect to making art every day, is that when you don't (and guilt sets in) your brain creates a new "rule". These rules take the form of "I will" or resolutions that are so complex and unrealistic you can't possibly achieve them. I will write 2,500 words every day no matter what. I will work on the same project every day until it's done. I will hit 10,000 steps every day. Etc. Etc. Unfortunately, this is what leads to procrastination because when you fall down (which is normal because you're human, not a robot) you'll associate "making art" with creating demands for yourself that wind up making you feel very small.
This issue is exacerbated when you start getting your shit together, because as you go through stuff you'll take stock of your past self and goals–and that's when the brain weasels wake up and attack. Organizing by itself is not a creative challenge; organizing to clear your mind, however, is. The point of revisiting old files, cataloguing your inventory, and assessing where you're at is to make way for your future self. To do that, sometimes you have to address your physical space even though that might generate memories of your past self.
Here's how I deal with this creative challenge: in anticipation of brain weasels, I've been using a visualizing technique to facilitate and channel my emotions. I picture a large house inside my head. (Way bigger than any home I've ever lived in!) All my proverbial junk is in the basement. If I'm feeling crappy, when I head down there I "see" a flooded basement. Super gross! As I clean up my physical space, I concentrate on draining that water and mopping up the floor. It's an added layer to help me be more resilient to making new rules, and it helps me "see" the effect it's having, instead of just feeling it.
Mood: It's all coming together.
Caffeinated Beverages Consumed: Whoaaaaa… Like, psychedelic.
Work-Out Minutes Logged Yesterday: Half an hour
In My Ears: Fish tank
Game Last Played: Dragon Age: Inquisition
Book Last Read: Dr. Potter's Medicine Show
Movie/TV Show Last Viewed: Clone Wars
Latest Artistic Project: Make Art Not War 2017 Challenge and Rules
Latest Releases: In Volo's Wake for Dungeons & Dragons 5th Edition. Read my end-of-the-year list of releases for an overview of what I've put out for 2016.
Current State of Projects: Read my latest project update. New project update coming this month!