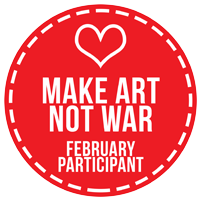 Can't believe it's been two months already! How are you all doing? Several projects have popped out of this month's planning and organizing, and I'll describe some of them in next week's monthly recap. Before I start talking about brain weasels, I want to address some administrative points I thought I'd share.
How My RSS/Newsletter Appears in GMail – Google is regarding the e-mails you're receiving as "Promotional" and listing it under that tab, no doubt because I have pictures and links in my posts. You can read more about this issue here on Quora (Thanks, Didi!).
Geek Social Fallacies Still Relevant – The five Geek Social Fallacies addresses some social characteristics within the geek-o-sphere, and though this was written years ago I still think they're relevant.
Guest of Honor at OddCon – Don't forget! I'm a Guest of Honor along with Tad Williams and Christopher R. Mihm at Odyssey Con at the end of April. Join us to talk about games, movies, books, and a whole lot more.
Adding a monthly coupon for www.booksofm.com subscribers – Thanks to the depth and breadth of work I've done, combined with the relationships I've built up over the years, I've gotten permission to offer some monthly discounts with some of the publishers I've worked with. I don't want to spam you with special e-mails, however; you'll either get a special coupon or a free e-book once a month to give you something back for subscribing.
Prepping for Camp NaNoWriMo in April – I'm in the middle of outline hell, and will be preparing for Camp NaNoWriMo. This camp is a spin-off from NaNoWriMo.org, which takes place in November. Ideally, I want to write 50,000 words of my own, original material which roughly translates to 2,500 words per day. I'm guessing that, because of work, it's more realistic for me to do 20,000. If you need a kick-in-the-ass to get some writing done, I'll be posting about it later on.
Creative Challenge: Wrangling Those Brain Weasels
Did you know I've been blogging on and off now for over ten years? I've been reviewing some of my earlier posts, and I was amazed at the person that I once was. In fact, I was a little embarrassed by my blog posts, because I have learned so much since then — and I'm not sure I would give the same advice now as I did in the past.
Growth is normal, healthy, and a sign that the slow pursuit of my career has continued to evolve. But, being embarrassed of who I once was opens the door to brain weasels. "Why did I say something so stupid?" "Why did I present myself as an expert?" "Geez, this sounds incredibly self-serving." I got de-railed, and was in a funk for a couple of days. "Oh no! What was I thinking?"
It's easy to look back and see past mistakes, because conventional wisdom — hindsight is 20/20 — holds true, especially for artists due to the uncertainties of being in this industry and making a living. There are so many factors outside of our control, I'm of the mind that many of us are doing the best we can with what we have on our own journey. For example, sometimes we might buy our own bullshit because that's what gets us through to see another day. Or, we break out that ruler or measuring stick to compare ourselves to another writer to see where we're "at" to motivate us to write more. (Related: my blog about Keeping Your Eyes On Your Own Page.) Of course, if we do manage to avoid brain weasels that tank our Inner Artist's ego, sometimes we turn that back around and point to all the reasons (some legitimate, and some not) that we're not making art, we're not successful, or we haven't gotten the help we need when there's only one thing we can control: making art so we have something to sell.
Wrangling brain weasels is a creative challenge when it threatens your productivity or mood like it did mine. They are normal, they are common, and you are not alone in suffering from them when they attack. To deal with them you might go for a walk, list your accomplishments, track your time (to see where you're spending it), find a mentor, etc. Though you will do what works best for you, the main thing to remember is that you are the only person who can deal with your personal bullshit — and that includes those moments of insecurity. So, how do you get back on the horse and get back to writing? That's entirely up to you.
I've decided to deal with my brain weasels by molding them into a singular monster; I've also given it a name. Mine is Bob the Many-Headed Slithering Snot-Nosed Smelly Goober Weasel. Because really, when standing in front of my insecurities, sometimes the best thing I can do is laugh and then get on with my day.
Mood: 90% of my feeds are about politics. No wonder I'm exhausted.
Caffeinated Beverages Consumed: Good gravy I lost track.
Work-Out Minutes Logged Yesterday: Walking!
In My Ears: Fish tank
Game Last Played: Dragon Age: Inquisition
Book Last Read: Dr. Potter's Medicine Show
Movie/TV Show Last Viewed: RED 2
Latest Artistic Project: Make Art Not War 2017 Challenge and Rules
Latest Releases: In Volo's Wake for Dungeons & Dragons 5th Edition. Read my end-of-the-year list of releases for an overview of what I've put out for 2016.
Current State of Projects: Read my latest project update. New project update coming this month!