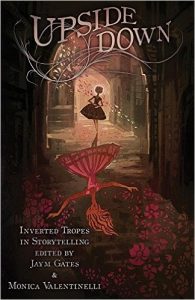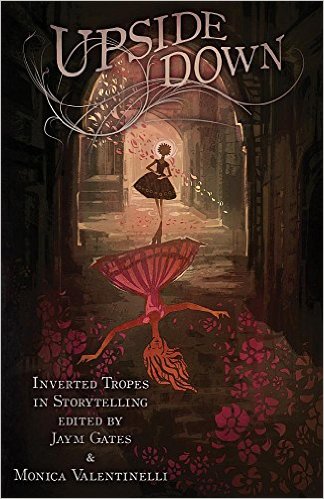 Upside Down: Inverted Tropes in Storytelling features several authors and essayists, including Maurice Broaddus, Nisi Shawl, and Victor Raymond who are all in town for WisCon 41 this weekend. I thought this would be a perfect time to bring up this collection of short stories and essays again, and post the full Table of Contents for the X-page book. You may recall that I wrote about the anthology for Scalzi's The Big Idea, and that the concept for the collection came from some serious discussions about tropes and cliches.
Challenging what we think about tropes and cliches can be both fun and uncomfortable, and that has shown in the reviews, like the starred review of Upside Down we received from Publisher's Weekly. I quote: "When the stories are shocking, they demonstrate how thoroughly these narrative conventions have become embedded in our psyches." This, by itself, was one of the reasons why I wanted to put together this collection.
I know I'm a smart-ass, but I try to operate from the mindset that I don't know everything, that I am always learning, to prevent cynicism and bitterness from taking over. Editing Upside Down: Inverted Tropes in Storytelling taught me that my lessons in life will never be over, and that isn't something to fear–but to celebrate. Everyone has a story to tell, and sometimes the best thing we can do as writers and readers is to truly listen to that tale to understand our differences and what we have in common with one another. I'm very proud of the collection, and am so pleased to have worked with such fine and excellent individuals.
If you're interested in this collection, the anthology is available in digital and print wherever books are sold. You can find Upside Down: Inverted Tropes in Storytelling on Amazon.com, DriveThruFiction.com, and many other bookstores, too!
Table of Contents
Introduction. JERRY GORDON
SECTION I: INVERTING THE TROPE
On Loving Bad Boys: A Villanelle. VALYA DUDYCZ LUPESCU
Single, Singularity. JOHN HORNOR JACOBS
Lazzrus. NISI SHAWL
Seeking Truth. ELSA SJUNNESON-HENRY
Thwock. MICHELLE MUENZLER
Can You Tell Me How to Get to Paprika Place? MICHAEL R. UNDERWOOD
Chosen. ANTON STROUT
The White Dragon. ALYSSA WONG
Her Curse, How Gently It Comes Undone. HARALAMBI MARKOV
Burning Bright. SHANNA GERMAIN
Santa CIS (Episode 1: No Saint). ALETHEA KONTIS
Requiem for a Manic Pixie Dream. KATY HARRAD & GREG STOLZE
The Refrigerator in the Girlfriend. ADAM-TROY CASTRO
The First Blood of Poppy Dupree. DELILAH S. DAWSON
Red Light. SARA M. HARVEY
Until There Is Only Hunger. MICHAEL MATHESON
Super Duper Fly. MAURICE BROADDUS
Drafty as a Chain Mail Bikini. KAT RICHARDSON
Swan Song. MICHELLE LYONS-MCFARLAND
Those Who Leave. MICHAEL CHOI
Nouns of Nouns: A Mini Epic. ALEX SHVARTSMAN
Excess Light. RAHUL KANAKIA
The Origin of Terror. SUNIL PATEL
The Tangled Web. FERRETT STEINMETZ
Hamsa, Hamsa, Hamsa, Tfu, Tfu, Tfu. ALISA SCHREIBMAN
Real Women Are Dangerous. RATI MEHROTRA
SECTION II: DISCUSSING THE TROPES
I'm Pretty Sure I've Read This Before… PATRICK HESTER
Fractured Souls. LUCY A. SNYDER
Into the Labyrinth: The Heroine's Journey. A.C. WISE
Escaping the Hall of Mirrors. VICTOR RAYMOND
Tropes as Erasers: A Transgender Perspective. KEFFY R.M. KEHRLI
SECTION III: DEFINING THE TROPES
Afterword. MONICA VALENTINELLI & JAYM GATES
Trope Definitions/Index of Tropes.
SECTION IV: ACKNOWLEDGMENTS AND
ADDITIONAL BIOS