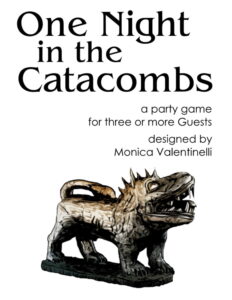 One Night in the Catacombs begins with your invitation to a fancy party that takes place in Naples, Italy. You and your friends are influencers invited to explore a newly-discovered section of the Catacombe di San Gennaro at midnight. You are all Guests who begin play as yourselves, just as you are now.
One Night in the Catacombs is a party game for three or more Guests (or players). In this edition, you'll find:
set-up instructions
setting
rules
suggestions for props
examples
advice for your Maven (or host)
customizations for LARP and tabletop play
…and more!
As the title suggests, this party game can be played in one evening.
When asked why she set her party game in the catacombs, Monica said:
"After getting caught up on my favorite shows, I wanted to design a fun party game that didn't take a long time to learn and could be played in one night. When I was brainstorming themes, my first thought was 'How about necromancy?' Only, it's really hard to find an affordable lich these days and teach folks the proper spells in a few hours. Frustrated, I skimmed Twitter and was inspired by #MosaicMonday. The catacombs seemed like a nice, thematic compromise–with huge apologies, of course, to actual archaeologists and historians."
Worried about dice? Playing cards? Need to skim the rules first? Don't worry! The setting, rules, and objectives are presented to you as part of your gaming experience. When you download this game, you'll find you already have everything you need to play.
Your Maven will also find stylistic suggestions to help guide your party with a feather-light or firm hand. And for the gaming aficionado, you'll read about the game's design philosophy, player tips, suggestions for props, and a FAQ, too–plus bookmarks!
For more games by the designer, browse games by Monica Valentinelli on DriveThruRPG.com.