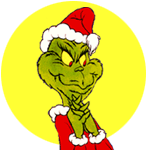 I am having a hard time trying to find meaty non-esoteric Alchemy tomes. I am full up on "light this candle, summon the power of St. Germaine!" I need history books that talk about the different cultures, possibly in the context of early Chemistry, but also tomes that offer some science about reagents and the like.
Biographies of key folks would be good, too, but again… I'm not looking for ways to paint circles on the ground and bring three hundred year old dead guys back to life. Also: I don't "just" want Western Alchemy. The world is not confined to Europe after all. Early chemists would also apply here, too. Sadly, that part of my brain is missing. Suffer the science lapse…
Mood: Non-Floofafy me is now my favorite word.
Caffeinated Beverages Consumed: Going on number three.
Work-Out Minutes Logged Yesterday: The gods save me, I went to the mall.
In My Ears: Computer fan with possible threat of thunderstorms.
Game Last Played: Sonic and All Stars Racing Transformed
Book Last Read: Complete Guide to Chinese Astrology
Movie Last Viewed: Pan's Labyrinth
Latest Artistic Project: *Still* *still* *still* need to take pictures…
Latest Release: "The Button" We Are Dust anthology and for gaming, a fun Scion: Extras (Supplemental Yet Can Be Somewhat Useful On Occasion Scions)
.