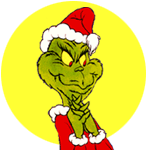 I've got some link salad for you today and also some comments on a meme that's going around. But first? LINK SALAD!
Now that that's out of the way… There's a meme going around about the top ten books that have influenced you. This meme, in particular, speaks volumes to me about what people's personal preferences are. As a professional writer, I cannot tell you how incredibly crucial it is to read broadly. Even if you don't like a particular genre, there's always something you can learn from a different perspective. Not only is this technique something to consider if balancing characters from a gender, sexual, or cultural perspective is important to you, it's also good to help you better understand your readers. Most people don't read one genre!
On that note, here's mine. It's CERTAINLY not everything, mind you… I've specifically avoided non-fiction, public domain, mythology, fables, folk stories, comics, books I've mentioned before that have influenced my work, and classic literature in this list.
1.) Things Fall Apart by Chinua Achebe
2.) A Wrinkle in Time by Madeleine L'Engle
3.) Outlander series by Diana Gabaldon
4.) The Alchemist by Paulo Coelho
5.) The Handmaid's Tale by Margaret Atwood
6.) Cat's Cradle by Kurt Vonnegut
7.) The Mummy (or Ramses the Damned) by Anne Rice
8.) Imajica by Clive Barker
9.) The Otherland Series by Tad Williams
10.) The Stand (Unabridged Verson) by Stephen King
Mood: The end is in sight
Caffeinated Beverages Consumed: The equivalent of three cupes of coffee.
Work-Out Minutes Logged Yesterday: Yeah, let me get right on that.
In My Ears: Background noise
Game Last Played: Battle Nations
Book Last Read: An encyclopedia on gemstones
Movie Last Viewed: RED 2
Latest Artistic Project: *Still* *still* *still* need to take pictures… It's on the list!
Latest Fiction/Comic Release: Last Man Zombie Standing
Latest Game Release: Freedom Flyer
What I'm Working On: Primarily tie-in games work and novels.