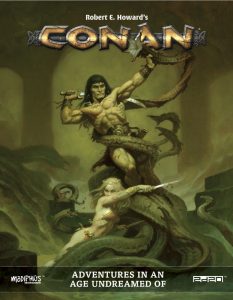 Robert E. Howard's Conan: Adventures in an Age Undreamed Of takes you into the world of Conan the Barbarian, where heroes raise blood-spattered swords against dire sorcery, exotic lands beckon to the daring, danger and treasure lurks in forgotten ruins, and where loathsome creatures haunt the spaces beneath the earth… as well as in the throne-rooms of mighty kingdoms!
I worked on the game in its early stages, and contributed to the gazetteer section. Here are some of the game's highlights:
Create your own legend in this decadent and violent world.
Complete 2d20 game system, including combat, skills, talents, sorcery, and equipment suitable for adventuring in the age before history.
An extensive gazetteer covering the whole of Conan's world: featuring fair Aquilonia, gloomy Cimmeria, magic-haunted Stygia, all the way to the far-off steaming jungles of Khitai.
Fearsome foes, ranging from bandits to sorcerers, apes to giant serpents, Children of Set to frost giants, forest devils, and characters of renown such as Conan or his most deadly foe, Thoth-Amon.
Excited to play in the Hyborian Age? You can download the Conan RPG at the FlamesRising.com shop.