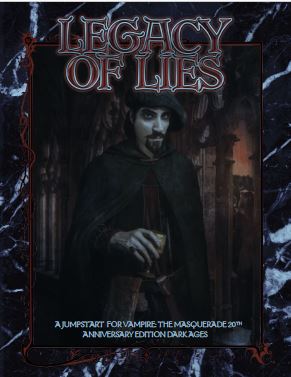 Two Princes. Bitter Rivals. And a Coterie Caught Between Them.
Marcus Verus, the vampiric Prince of Chester, secretly prepares to go into torpor. Should his plans be made public, the Prince knows the wolves — both real and imagined — would launch an attack, threatening all within his domain.
That's where you come in.
Legacy of Lies is a jumpstart for the Vampire The Masquerade 20th Anniversary Dark Ages Edition corebook. This standalone jumpstart is a taste to whet your vampiric appetite. It includes:
• Basic rules for players and Storytellers
• Introduction to the V20: Dark Ages setting
• Introductory adventure
• Characters for players and Storytellers
About Legacy of Lies
Marcus Verus, Prince of Chester, is secretly preparing to go into torpor, and wants to ensure his house is in order. Verus does not wish to make his plans public, because he knows the minute he announces his desire to rest, the wolves will be at his door, and all would be threatened within his domain which was entrusted to him by his sire, Mithras, the King of the British Isles. Instead, Verus is assessing who will be worthy to take the reins of leadership once he leaves Chester by appointing a council of peers to rule in his stead. Of course, such a position carries a price: Whomever sits as the Baron of Chester will have to answer to Mithras, himself.
First, however, Marcus Verus needs to convince a group of vampires (the characters) to carry out a secret mission on his behalf. Verus, a seasoned warlord, is not a vampire of many words; he will test the characters by asking them to question an informant hiding in Rouen and take further actions if necessary. What the characters do not know, is that Verus is already aware of the secrets the informant possesses. He's more curious to know what they'll do next.
What secrets will your characters unravel? What dark decisions must they make? Whose favor will they win? Find out in Legacy of Lies!