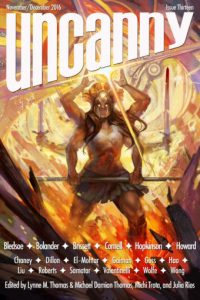 I am pleased to announce that I have an essay titled We Have Always Been Here, Motherfucker in Uncanny Magazine Issue No. 13. I am joined by a fantastic list of contributors
Here's more about this premiere issue for year three:
Space Unicorns! Uncanny Magazine Issue 13 Part 1 is LIVE! Featuring all–new short fiction by Paul Cornell, Brooke Bolander, Jennifer Marie Brissett, reprint fiction from The Starlit Wood by Amal El–Mohtar, nonfiction by Alyssa Wong, Monica Valentinelli, & Navah Wolfe, poems by Neil Gaiman & Theodora Goss, and a Jennifer Marie Brissett Interview! Plus Julie Dillon's "Impact Crater" on the cover!
The Uncanny Magazine Podcast Episode 13A: Editors' Introduction, Paul Cornell's "Don't You Worry, You Aliens" as read by Heath Miller, Brooke Bolander's "Our Talons Can Crush Galaxies" as read by Erika Ensign, Theodora Goss's poem "Rose Child" as read by Amal El–Mohtar, and Brooke Bolander interviewed by Deborah Stanish.
The entire issue is available for purchase as an eBook (PDF, EPUB, MOBI) RIGHT NOW. The second half will be released on December 6.
PLEASE SUPPORT UNCANNY! SHARE YOUR FAVORITES! Or feel free to purchase subscriptions from Weightless Books or Amazon Kindle or become a Patreon Patron!
For more about this magazine, visit www.uncannymagazine.com.