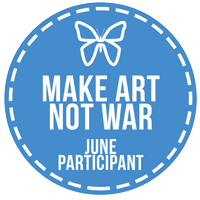 This month was another weird one, and it wasn't for a lack of concerted effort on my part to resume normality. I was sick for about two and a half weeks, and that put me even further behind than anticipated. I feel terrible about it, and though many things happened outside of my control I am focused like a shark with a laser beam on their head to get all the things done. What I did learn from yet another setback, however, was that every day is a new opportunity to move forward. In this climate, that can be very hard. So many friends and loved ones are anxious about the repeal of the ACA, net neutrality, civil rights protections, reproductive rights, the right to protest… Hell, I'm furious, but feeling All The Bad ThingsTM for an extended period of time is not good for me mentally or physically. Thank you, very much, Pokemon Go for adding a bit of fun to my walks every day for that reason.
As an aside, I cannot stress enough the importance of self-care right now. This is not a politics-as-usual presidency, and I am so, so sorry if you are either at risk or are being harmed right now. If you need permission, let me repeat that you are not selfish if you take care of yourself. That, when coupled with isolationist tactics, is how the assholes manipulate victims. Taking my own advice, for sure, but getting back up on the proverbial horse and celebrating small wins to keep at it. That, dear reader, is what artists do.
Here's how I did in May:
My Make Art Not War 2017 Challenge pledge:
I pledge to devote one hour a day to my original art.
If I don't feel motivated, I pledge to write down the reasons why I wanted to take this challenge for fifteen minutes or one-to-three pages whichever comes first.
I pledge to mark down on the calendar whenever I complete a day's efforts.
As the challenge creator, I pledge to create a weekly accountability post every Wednesday beginning on January 9th. Comments will be open. Hashtag #makeartnotwar2017 #manw2017
I pledge to check into social media twice a week for personal use, and once a month with my local community of artists and writers.
May 2017 Challenge Recap
I had no capacity whatsoever to make art when I was sick. I did do some lettering this month, and revisited some original stories. But, I was preoccupied because I was falling behind on my obligations and paying gigs come first.
I didn't have a problem with motivation, but I did get very frustrated when I couldn't satisfy it.
Another month where tracking didn't happen. This time, I didn't track those efforts because guilt started to set in when I didn't make art. This, dear reader, is why I feel that "making art every day" or "write every day" mantras can be harmful. It's something I need to think about going forward.
Social media time was managed, and I opted to extend my social media sabbatical. I feel very strongly that silence is helping me recover faster, and retain my focus.
Could I control being sick? No, no I couldn't. That doesn't stop the brain weasels from taking over, and given the intensity of emotions I felt during this time I am chalking May up to a lesson learned. Maybe, my goal for this Make Art Not War 2017 Challenge has more to do with making art as a priority as opposed to making art every day.
This observation is interesting to me, because I don't want to pull back so much on the idea that actually sitting down and doing the work isn't the only way to move forward in your career. But, it's giving me a dimension to think about, that making art is the goal and if, despite all your best efforts, you just can't right then and there…that doesn't mean you're a failure. It just means that you need to keep at it. (Hence, this month's theme!)
JOY and other Monthly Themes Recap
Now that we're in June, I'd like to take a moment and share the monthly themes we've had so far. They are:
May's JOY theme was fun, and it reminded me what I love doing. Making art absolutely makes me happy, but I feel that needs to happen in a safe space. What and where that space is will be unique to you, but it's definitely something to think about. With that in mind, I'm ready to share June's theme!
New Theme for June! PERSISTENCE
Very simply, June's theme is PERSISTENCE. Yes, I've fallen down a few times. I'm assuming you have, too. This is what it means to be a human making art, as opposed to a robot producing art on an assembly line. If you kinda sorta participated in January but abandoned it like your other New Year's Resolutions, then I encourage you to think about joining in again. I am not asking you for anything other than to show up, put your butt in the chair, and start writing or knitting or painting, etc. for this month. You can do it!
Feeling defeated? I cannot stress this enough: shit happens. It especially happens to artists, and often we draw upon those emotions–joy, anger, fear–to make art. The fan will be hit, and that's guaranteed. What matters is that you get back up after you fall down, and keep making art. I have faith that you will join me. That, more than anything, is the reason why I tell you about what I'm going through. If you're experiencing a bump in the road, you are not alone!
Mood: Is hairball a mood? My cats are full of them.
Caffeinated Beverages Consumed: Three-ish.
Work-Out Minutes Logged Yesterday: Hunting Pokemon
In My Ears: Blissful silence.
Game Last Played: Pokemon Go
Book Last Read: Kim Stanley Robinson's Aurora
Movie/TV Show Last Viewed: La Belle et la Bete.
Latest Artistic Project: Make Art Not War 2017 Challenge and Rules
Latest Releases: In Volo's Wake for Dungeons & Dragons 5th Edition, Unknown Armies Books 1-3, and Kobold Guide to Gamemastering.
Current State of Projects: Read my latest project update. New project update coming when I get time.