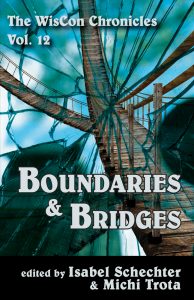 WisCon Chronicles: Boundaries & Bridges explores our understanding of boundaries and bridges, and what they mean for us as individuals and for our communities. The words we use matter, as essays that talk about feminist terms, gendered language, and even the name of the Tiptree/Otherwise award (which is almost inextricably identified with WisCon) demonstrate. The definition of "community" is also examined, both within WisCon and beyond, as it spills out into the wider world — including online spaces.
Check out this awesome list of contributors! Jess Adams, Charlie Jane Anders, Nancy Bird, Kristy Anne Cox, Katherine Alejandra Cross, Alexandra Erin, Nivair H. Gabriel, Sarah Gulde, Lauren Jankowski, Inda Lauryn, Elise Matthesen, Gabriela Damián Miravete, Chimedum Ohaegbu, Otherwise Board, Julia Rios, John Scalzi, Nisi Shawl, Monica Valentinelli, and G. Willow Wilson!
Limited Time Giveaway!
The first 100 people to register for WisCon 44, which will be held online Memorial Day weekend, will receive a copy of WisCon Chronicles: Boundaries & Bridges.
Please visit the Online Registration Page for WisCon 44 for more information about the giveaway, programming, and pricing. The essay collection can be purchased through the publisher's website at aqueductpress.com