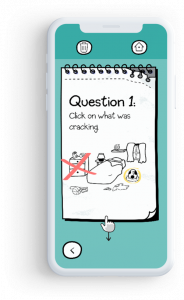 Hello! I am pleased to announce that Wonder Stories, an app designed to help middle grade kids read, is now available in the Apple store and on Google Play. This app reinvents the story by allowing kids to help the characters unravel a mystery.
Right now, the app is free. Two of my stories are now available! You can enjoy "The Case of the Popped Balloons" and "The Case of the Multiplying Bunnies" along with several other stories when you download the app to your device. My stories take place in a magical circus-themed school and stars Jesse Chipperfield and Tanner Newbury.
Due to COVID-19, the launch at SXSW was scrapped. If you know of anyone who loves tiny mysteries, I'd appreciate a recommendation. The designer of the app would also love reviews and feedback–especially from librarians! Getting the word out will be a little harder now, but I hope with a little luck we can make that happen.
Thanks and happy reading!