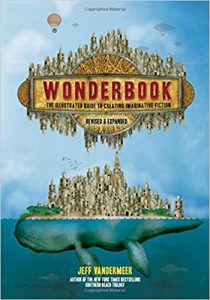 Wonderbook has become the definitive guide to writing science fiction and fantasy by offering an accessible, example-rich approach that emphasizes the importance of playfulness as well as pragmatism. It also exploits the visual nature of genre culture and employs bold, full-color drawings, maps, renderings, and visualizations to stimulate creative thinking. On top of all that, the book features sidebars and essays from some of the biggest names working in the field today, including George R. R. Martin, Lev Grossman, Neil Gaiman, Michael Moorcock, and Karen Joy Fowler.
For the fifth anniversary of the original publication, Jeff VanderMeer has added an additional 50 pages of diagrams, illustrations, and writing exercises creating the ultimate volume of inspiring advice that is also a stunning and inspiring object.
I am happy to announce that my work has been included in this stellar edition. When reviewing the existing material, there was so much great advice in the initial volume it was difficult to figure out a contribution. I opted to provide a methodology for the creation of an alien language simply and quickly; this is something game designers, authors, comic book writers, etc. can use if you get stuck figuring out how an alien species communicates.
Wonderbook (Revised and Expanded): The Illustrated Guide to Creating Imaginative Fiction is available wherever fine books are sold. Additionally, if you haven't checked out Jeff VanderMeer's work please do! He's a very fine author in his own right, and his wife Ann is a stellar editor, too. A perfect blend of literary talents, indeed. To hire them for writing, editing, teaching, or speaking, visit VanderMeer Creative.