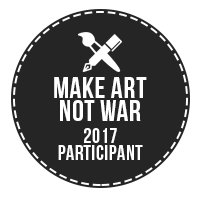 Hello everyone! I am pleased to announce the release of Make Art Not War Challenge: Rules, Essays, and 31 Creative Prompts. This eBook is available in multiple file formats through DriveThruFiction.com in Nook (ePub), Kindle (Mobi), and PDF formats.
Here's more information about this eBook: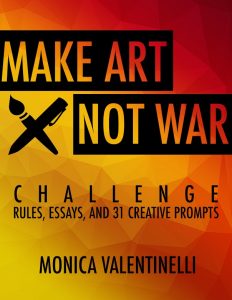 When times are tough, the feeling that artists are not necessary tends to permeate. Art is viewed as frivolous or a luxury since we don't produce food, clothing, or housing. The exact opposite is true, however, because in charged political climates artists document and represent our humanity and all our struggles be they violent or peaceful for present day and future generations. Often, propaganda posters, victory songs, and other forms of art are specifically commissioned as well. Art is omnipresent, it is always political, and the choices we make affect our audiences and everyone around us.
For some artists, making art is an act of resistance; for others, making art is a way of life and a career. Even if your goal is to avoid politics altogether, remember that people turn to stories, games, and comics to find hope, to be inspired, to reach inside themselves and discover their own courage. Those emotions, even if they provide a temporary reprieve from whatever they're facing, are powerful motivators to live and fight another day.
This eBook includes:
* Customizable Make Art Not War Challenge Rules
* Essays to help empower artists and deal with blockages
* 31 Creative Prompts to unlock an artist's creativity
Remember, one story can change someone's life. The problem is, we have no idea which story that will be, when it will be told, or in what medium. It's up to us to find it — by making art! The eBook includes essays and material that debuted on my blog, but it also includes new material, too.
If you're a fan of Amazon.com, the Make Art Not War Challenge eBook can also be picked up at the Kindle store along with The Cainite Conspiracies, which I edited for the 20th Anniversary Edition of Vampire: The Masquerade Dark Ages, and two collections that include my stories. The first is Endless Ages, and the second is Tales of the Dark Eras.
More stores will be added pending review. I hope you enjoy this eBook and, more importantly, keep making art! Enjoy!