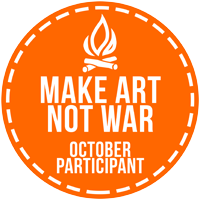 This month's Make Art Not War Challenge theme is SELF-CARE, which is one of the essays I pubbed in my new Make Art Not War Challenge: Rules, Essays, and 31 Creative Tips eBook! To celebrate this fun and necessary theme, I've cooked up seventy-five suggestions for you. Woo!
1. Get a facial or use a face mask
2. Set up your annual doctor's visit
3. Schedule your dentist's visit
4. Watch a comedy
5. Re-read your favorite book
6. Listen to your favorite song
7. Wear your favorite color
8. Buy yourself flowers
9. Schedule a sexual health screening
10. Get a massage
11. Get your nails/hair/toes done
12. Change your hair color/style
13. Do that One ThingTM you've been putting off for months
14. Clean your desk
15. Make your bed
16. Sleep with fancy sheets
17. Spray stress-reducing fragrances (lavender, peppermint, etc.)
18. Light a candle
19. Take yourself out on a date
20. Bake! Fresh bread is fabulous
21. Meditate or pray
22. Plan a New Year's celebration!
23. Indulge in your favorite hobby
24. Get some fresh air
25. Take a nap
26. Cook an elaborate meal
27. Find a new theme song. (I like Survival by Muse)
28. Read a new story by your favorite author
29. Watch a feel good movie
30. Have some delicious tea
31. Color! There's swear word coloring books, too!
32. Eat your vegetables
33. Do a second thing you've been putting off for months!
34. Check your water intake and up it, if needed
35. Find a safe space and scream
36. Play with your pets! (Or go to a rescue and see 'em.)
37. Track your mood with smiley faces. (Sometimes, you need to know where you're at, before you can help yourself!)
38. Set up a savings plan that's affordable for you
39. Take a class or tutorial
40. Get glam/silly/spooky/etc. and get photographed!
41. Take a long hot shower/bath
42. Use some fancy lotion
43. Specify an event or date you're looking forward to–then count it down!
44. Schedule time to disconnect
45. Do some breathing exercises
46. Wear excellent socks
47. Put up holiday lights in your office — I did! Mine are purple!
48. Visit a planetarium
49. Cull your social media lists/followers
50. Use a worry stone
51. Vent. Journals work great for this!
52. Visit a planetarium. The vastness of space is an excellent reminder how small our planet is!
53. Plan for the holidays early. Save yourself some time and space to enjoy them.
54. Sitting on an application/submission of any kind? Submit it!
55. Putting off that body art? Plan and do it!
56. Watch the sunrise/sunset
57. Visit your local arboretum or park
58. Do that computer/phone maintenance you hate doing
59. Organize/sort your photos
60. Create a vision board–a digital version works fine, too!
61. Forgive yourself
62. Plan (and do) a new self-help morning routine
63. Geek out! Write fanfic or make fan art
64. Get your personal library in shape
65. Take a self-defense class
66. Seek out guest lecturer opportunities–try your local library!
67. Have a good cry
68. Level up your writing instruments. I adore jetpens.com!
69. Have a planner? Pretty it up with fancy stickers.
70. Plan a trip and go cloud watching
71. Create a wheel spinner to do something fun. (Then do it!)
72. Learn ASL, Morse code, or a foreign language
73. Sign up/plan a longer-term fitness goal with a trainer
74. Prioritize your wants/needs/goals
75. Say buh-bye to toxic people and deepen your relationships with those who matter.
Mood: The future is yet before us
Caffeinated Beverages Consumed: Addiction? Oh yeah. Too embarrassing to admit.
Work-Out Minutes Logged Yesterday: Steps! Averaging 5K a day work-out wise, and ready to up the program.
In My Ears: A whiny Muse song
Game Last Played: Pokémon Go
Book Last Read: Loads for work. Loads. LOADS MORE.
Movie/TV Show Last Viewed: Westworld
Latest Artistic Project: Make Art Not War Challenge eBook
Latest Releases: Over the Edge for Dungeons & Dragons 5th Edition, Dagger of Spiragos for Scarred Lands.
Current State of Projects: Read my latest project update. New project update coming when I get time.