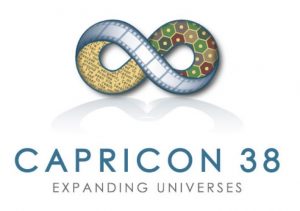 I am pleased to announce I am the Gaming Guest of Honor at Capricon 38 in Wheeling, Illinois. The theme for 2018's show is "Expanded Universes", and I love it.
From the website: "Capricon 38: Expanding Universes, will be a celebration of the infinite loop from the written word, to the screen, to games, and back again. When fans find a universe they enjoy, they can't wait for the next book, episode, movie, or game. So, these universes are expanded across a variety of media."
This philosophy, that the art we make and enjoy is part of an infinite loop, is one I hold very dear to my heart. It's one of the pillars for my business plan, and it's also the reason why I'm continually inspired to keep chipping away at different points on that loop.
I hope you'll join us in February!