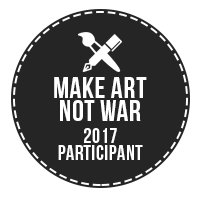 Hey folks, wanted to give you a heads up about the status of my Make Art Not War 2017 Challenge. I'm spending the rest of September to use my Make Art Not War 2017 Challenge time to work on my eBook, polish off a few short stories on spec, and get my office sorted after a busy summer of travel. The eBook has a cover and is seventy-five percent completed; I need to give it another read through and make sure the content is clear for beginning and hobbyist artists, in addition to professionals. Then, in October, I'll be kicking off a new (hopefully) fun and holiday-related theme. I haven't decided yet, but I might be participating in NaNoWriMo.org this year. My schedule is more focused on local events for the time being, and that's going to hold my attention for a while so I can enjoy the season. Summer travel, in particular, was a lot more than I expected to deal with; I had four conventions in two months plus international travel, and that took a lot more energy than expected for a lot of reasons.
Now that I'm back at my desk, I've been working through the last vestiges of that stress to fall into a great routine. I'm happier than I've been in a few months, and definitely taking advantage of it. There's been a lot of stress these past few years, for sure, and the news sucks. But, if I want to keep my focus as someone who works from home, I have to do a little self-care. That's why I've recently introduced a lot of positive changes in my activity level, and that has had an effect on my system. I'm much more sensitive to caffeine, and I need to remind myself to drink more water! Why bring this up? Well, something to think about for yourself is that self-care is definitely needed not just for your health, but for your writing, too. Stress, hormonal fluctuations, activity level, posture, breathing, changes in your diet…all of these things impact your mood, health, and ability to put thoughts together–even help you pummel those brain weasels into submission. Self-care is important to do the thing! Do all the things! Don't forget!
Before I head off to my To Do List From HellTM, comments are open on this post today if you'd like to suggest a good place for donations to hurricane and earthquake relief. For those of you who were in the direct path of the multiple hurricanes, fires, earthquakes recently, I am so sorry for all you've experienced. My thoughts are with you. As a reminder, game designers and freelancers affected by this tragedy may apply for assistance through the RPG Creators Relief Fund, comic book writers, editors, artists, etc. can apply through The Hero Initiative. I've also donated the proceeds from my first comic to DriveThruComic.com's Feeding America Hurricane bundle. The digital comics bundle offer has been up for a few weeks now, and it ends Wednesday, September 13th at midnight. Following this, I encourage you to check out Feeding America and Doctors Without Borders. Both fantastic places to give a little if you can in this time of need.
If you have other charities you'd like to recommend, please do so in the comments below.
Mood: All the pentacle-covered coins, all the time.
Caffeinated Beverages Consumed: Good grief.
Work-Out Minutes Logged Yesterday: Stepping. One, two. One, two.
In My Ears: Harry Potter soundtrack
Game Last Played: Pokémon Go
Book Last Read: Loads for work.
Movie/TV Show Last Viewed: Central Intelligence
Latest Artistic Project: Make Art Not War 2017 Challenge and Rules
Latest Releases: Over the Edge for Dungeons & Dragons 5th Edition, Dagger of Spiragos for Scarred Lands.
Current State of Projects: Read my latest project update. New project update coming when I get time.