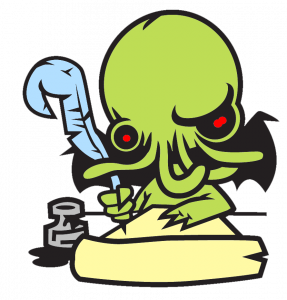 Hey folks, it's been a couple of months. Three conventions and multiple continents later, and I'm back at my desk. We went to Helsinki, Finland for RopeCon, and had two weeks or so to scramble before the 50th Anniversary of Gen Con. Following that? We came home for Geek*Kon, too. I have a lot I want to talk about here on the blog, work to revive my Make Art Not War 2017 Challenge, and deadlines climbing all over my face. Yes, deadlines may be spiders–far creepier if I let them pass by!
I've spent quite a bit of time getting centered again, in part because waiting on certain projects/contracts really affected my productivity. I've got a few pieces to nail down in September, but most of my work is fully caught up. Now, it's just a matter of focusing on milestone deadlines, and I'm good. Thankfully, my travel schedule is slowing down this Fall intentionally; I have a lot of art I want to do and unfortunately blogging plus conventions plus deadlines plus having a life got to be too much.
I'm hoping to announce some of the major bits soon enough. Yes, they include fiction! Non-fiction! And games! My business plan's goals are definitely congealing, but I've learned a key thing that I didn't account for: traditional publishing is slower than I expected it to be. That means, at least for the time being, I'll continue to work in games and find other venues to publish in. I can always hope for the best while planning for the worst. Accommodating for growth has been a learning curve, because contracts can be either feast or famine. The key, for me, is to have a schedule that's well-balanced, and that can be hard when factoring in money, family, health. Too bad Siri doesn't manage that, too.
Speaking of "the absolute worst", the news is dim, grim, and I'm so sorry to hear how many of you are affected by flooding, fires, etc. Many of my peers and co-workers are impacted by what's happening, and that's affecting their families, friends, deadlines, and travel. I don't know what will happen long-term, especially if we continue to stick our heads in the sand that the climate is changing, but I have faith that we will continue to pitch in and help each other out. To that end, the first comic I wrote is included in a digital bundle of comics to benefit Hurricane Harvey victims. Proceeds from the Feeding America Hurricane Bundle will go to Feeding America, one of many disaster relief organizations DriveThruComics.com partners with.
And last but not least, I'm woefully behind on updating my publications and ensuring those materials are up-to-date. This week, a new adventure for Dungeons & Dragons Fifth Edition went live on DMsGuild.com. Over the Edge, which I co-authored with Shawn Merwin, is now available. This adventure is part of the Adventurer's League and represents the most recent season. It is jam-packed with the possibility for adventure, and each section plays in about an hour–more if you're like me and enjoy some great storytelling!
I will have more to talk about next week, and will start critiquing Iron Fist. For now, hang in there.
Mood: It's fall. There's pumpkin spice everything.
Caffeinated Beverages Consumed: Uh, I had more water than caffeine. This is my ashamed face.
Work-Out Minutes Logged Yesterday: Lots of steps.
In My Ears: Coffee house music. It's very soothing. Zzzzzzzzzz…
Game Last Played: Pokémon Go
Book Last Read: Loads for work.
Movie/TV Show Last Viewed: League of Extraordinary Gentlemen
Latest Artistic Project: Make Art Not War 2017 Challenge and Rules
Latest Releases: Over the Edge for Dungeons & Dragons 5th Edition, Dagger of Spiragos for Scarred Lands.
Current State of Projects: Read my latest project update. New project update coming when I get time.