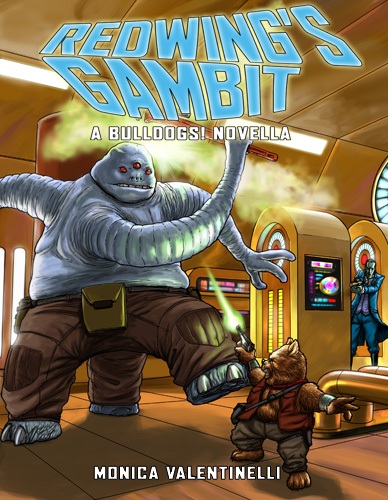 Today, I am pleased to announce that Redwing's Gambit, which takes place in the fun, romping Bulldogs! universe, is on sale through Saturday, May 13th at DriveThruFiction.com. Written in 2012, this novella is an earlier look at my storytelling — perfect if you're waiting for my upcoming stories to come out! When Redwing's Gambit first debuted, I wrote notes on the story's and setting's design, and am re-sharing those here in addition to one of my favorite scenes.
If you're interested, here's a link to Redwing's Gambit on DriveThruFiction.com. The story is formatted in ePub and PDF; you receive both when you order the file. Additionally, I pulled some links to design essays I wrote about the novella for you, too!
Constructing Redwing's Gambit: Research and Background Part 1 of 5 – The first question I asked myself was not about what story I wanted to write, but how I wanted to present the tale in such a way that felt more like Fate than d20. In my mind, the Fate rules really emphasizes and focuses on relationships or the ties that connect and bind the characters to one another.
Constructing Redwing's Gambit: Characters and Treatment – Part 2 of 5 – The treatment evolved from the original concept for a number of reasons. At the time, I thought the story required one perspective, but that didn't turn out to be the case. One mystery in a closed environment was "okay," but it wasn't enough for the readers to get a feel of what makes Bulldogs! a cool science fiction setting. Initially, my thinking was that an observant character could really dig into and tell a tale, highlighting the different aspects of the alien races and the worlds. Boy, was that ever wrong! While that technique sounds good, it didn't work when I started writing it because I bored myself going on and on and on…
Constructing Redwing's Gambit: Structure and Plot – Part 3 of 5 – After I had an approved story and treatment, I went to work writing the first and second draft. My inclination was not to offer one perspective, but to offer several. A mystery just did not work from an observer's point-of-view because I had a lot of characters and they're all not physically located in the same place on the ship. The logistics of having Dan sneak around like a ninja were not only boring — but creepy and Clueish. So, I added in other perspectives straight off the bat. I knew multiple viewpoints (there are three) was outside of how I normally write, but I felt it was necessary for a good story.
Constructing Redwing's Gambit: Revisions and Cut Text – Part 4 of 5 – I have about 7 to 10,000 words of cut text that I removed from Redwing's Gambit during the revisions process. Once I erased Dan Daget's character, I restructured the flow of the different perspectives and ensured that they read correctly. The biggest reason for the revisions, however, was to reduce any extraneous worldbuilding or plot hooks to keep the pace strong. With this being a novella, that meant minimizing certain aspects and also changing the strength of the relationship between Violet and the security chief to one of hidden, but mutual, feelings for one another. This first bit was altered because the spying robots was less important than Xax or Edna's kidnapping.
Redwing's Gambit Excerpt
One of the characters that readers really enjoyed was an angry teddy bear/mercenary named "Fang". This short scene is Fang's debut! The angry bear is a stowaway on board the ship, and he's facing off against a feline robot.

Deep within the bowels of the cruiser, a small bear-like creature crawled through a grimy pipe and dropped down through a narrow opening. He wiggled his way down, down, down until he landed on the floor of a sooty vent.
The animal bared his teeth, hunting for signs of the enemy, but could not see his prey.
Turning a corner, he came face-to-face with a cat. It nudged its cool body against him and purred.
The mechanical noise grated his ears. It wasn't a cat, it was cat-like. A robo-cat. And it was colored a bizarre shade. Watered down red. No, pink. An albino cat?
"Out of my way," the creature hissed. "You will move for Fang."
A clicking sound. Then, a high-pitched squeal. An antenna poked out of the metallic cat's mouth, its red tip blinked urgently.
"Move. Now."
The small bear stepped forward, but the robo-cat would not budge.
"Stupid cat." Fang grabbed the robo-cat's antenna and yanked back hard. The pink robot yelped in pain, its head spun faster and faster until a thin plume of smoke escaped from its pointy ears. Crouching low, Fang swept his foot and knocked the cat on its back. Then, the creature pulled out the robo-cat's leg and beat its rosy body with it until he was satisfied.
It was an empty victory.
Redwing's Gambit is available at DriveThruFiction.com.