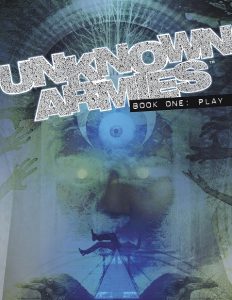 Unknown Armies is an occult game about broken people conspiring to fix the world. I worked on all three books, and they are now available for you to download in PDF format. This game is utterly dark, weird, gut-wrenching, and very cool! If you don't want to get all three, I'd start with the first one or check out the Unknown Armies Kickstarter page for more information.
Unknown Armies presents magick as it might exist in a world informed by crime fiction and secret histories, as twisting wrinkles in reality created by greater and greater risk, sacrifice, and obsession. As a player, you are confronted by the consequences of your character's actions, and challenged by the implicit threat of a world shaped by the will of those who want something more than you do.
Unknown Armies Book One: Play is the book for players. It details:
Obsession and identity.
All of the rules for resolving actions.
The central shock gauge mechanic.
How to avoid fights, and how to deal with them when you're dragged into them anyway.
The magick of adepts and avatars.
Gorgeous full-color art and layout.
Unknown Armies Book Two: Run is the book for gamemasters. It tells you how to:
Present the characters with obstacles to their fevered dreams of changing the world.
Oversee character creation and setting collaboration in the first session of play.
Draw on the rich and disturbingly familiar world of the occult underground.
Create new creatures and antagonists.
Resolve conflicts as a fan of the characters.
Prepare situations to disturb and entertain.
Unknown Armies Book Three: Reveal is the book of the weird for everyone. It contains:
Gamemaster characters, locations, creatures, and events.
Heresy and hearsay, alphabetized like a devil's dictionary.
Ideas, hooks, tidbits, scraps, lies, truths, and horrors.
Lists, stats, and ephemera.
Even more weirdness.
Even more magick.
Created by Greg Stolze and John Tynes, Unknown Armies presents an entirely original yet disturbingly familiar approach to mystery, horror, and action in roleplaying games. If this is your jam, check it out!