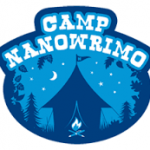 T-minus two weeks until Camp NaNoWriMo begins! You can find me at camp under the username: mlvalentine if you want to connect individually. I am significantly decreasing connectivity in April, because I've got a lot of words to write for both work and camp.
To help you prep, I've picked out ten reference ebooks on writing that are available on DriveThruFiction.com. I've either read these books or have them sitting on a shelf in my reference library, and I've made notes where applicable.
If you're taking my Make Art Not War 2017 Challenge, this does count towards the challenge. You'll want to plan approximately two hours a day to make your daily word count goal of 1,667, and commit to some brief outline sketches ahead of time. Additionally, if there's other administrative or Life, The Universe, and EverythingTM tasks you need to do, it's a smart idea to get that done ahead of time and make room for words. That way, if something throws you off-kilter then you won't veer as far off track.
Happy prepping!
Mood: Monday Monday
Caffeinated Beverages Consumed: So much espresso!
Work-Out Minutes Logged Yesterday: Walking my ass off
In My Ears: Whiny cats
Game Last Played: Final Fantasy X-2: The Last Mission
Book Last Read: Black Unicorn
Movie/TV Show Last Viewed: Legend of the Seeker
Latest Artistic Project: Make Art Not War 2017 Challenge and Rules
Latest Releases: In Volo's Wake for Dungeons & Dragons 5th Edition. Read my end-of-the-year list of releases for an overview of what I've put out for 2016.
Current State of Projects: Read my latest project update. New project update coming this month!