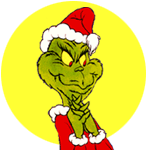 I want to get rocking on my Make Art Not War 2017 Challenge, and as part of that one of my "wish list" items is to squee about something cool that I really enjoy. Today's squee is timely, and it's about Michael Spradlin's Zombie Christmas Cards. I found out we had a couple of these left, and off in the mail they went with braaaaaaiiiiiiinnnnnnnnnnsssssss.
Anyway, I dig Michael's illustrations and the jokes for these cards. Zombies are a nice, geeky way to share the holiday spirit for those who appreciate the undead with their candy canes and nog.
Here's a picture of one of the cards; if you click on it, it'll take you to www.zombie-cards.com where you can see both illustrations, their interiors, and buy a set for next year.