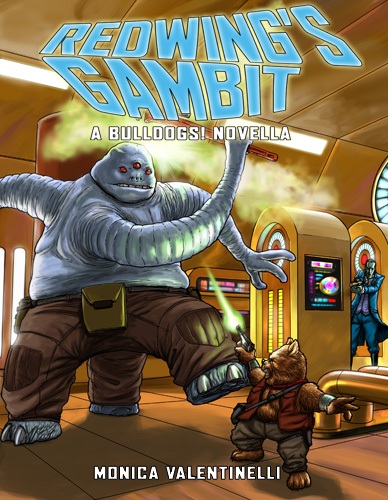 Redwing's Gambit has been out now for a little while. I just finished the design essay series about this story based on the Bulldogs! RPG, am knee-deep in revisions for the Kickstarter short story, and am reading a portion of the tale at Balticon this weekend. Since I covered quite a bit of the process on my blog, I thought I'd grab those links for you and a few quotes from the reviews.
One reviewer pointed out what so many other fans have told me, that Fang was their favorite character: First of all, it has an ass kicking teddy bear. How do you go wrong with that? I haven't enjoyed reading about a teddy bear this much since The Hollow Chocolate Bunnies of the Apocalypse by Robert Rankin. The story is basically a ragtag bunch of space couriers, whose job is to deliver a "package", which pretty much sums up the Bulldogs game….well, minus all the hijinks that can ensue.
This reviewer figured out what my goal was for the novella and then went on to talk about the characters. "Redwing's Gambit is a pleasant mix of science fiction action and suspense. Valentinelli deftly weaves her narrative through the corridors of the Haldis. Traditional sci-fi tropes such as the mysterious ship saboteur and disappearing crew members fit well for the story that Valentinelli is telling. As someone who had no previous exposure to Galileo Games Bulldogs setting, the use of these traditional tropes helped to keep me in the story as I built my understanding of the universe."
You can read both of those reviews beneath the http://www.amazon.com/gp/product/B007O7PFWU/ref=as_li_qf_sp_asin_tl?ie=UTF8&tag=flamesrising-20&linkCode=as2&camp=1789&creative=9325&creativeASIN=B007O7PFWU>Redwing's Gambit on Amazon.com listing.
I dove deep into the design essays so you could get a feel for the process. Here's a list of articles with excerpts for you to check out if you haven't already: