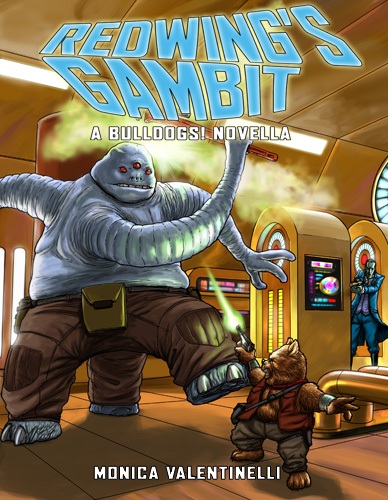 When I was plotting Redwing's Gambit, the Fate version of Bulldogs! was just a glimmer in Brennan Taylor's eye. I knew that the game was going to employ the same system as Spirit of the Century from Evil Hat Productions, but that's as far as my knowledge went.
The first question I asked myself was not about what story I wanted to write, but how I wanted to present the tale in such a way that felt more like Fate than d20. I had played Spirit of the Century and I also participated in a game run by Ryan Macklin, too. In my mind, Fate really emphasizes and focuses on relationships or the ties that connect and bind the characters to one another.
To help me make my decision, I dove into cinematic reference material to feel out the structure or the architecture of the story. (In other words, I wanted to design an elevator pitch that captured the mood.) Farscape. Star Wars. Firefly. Star Trek. I, Robot. Earth 2. Dune, etc. Of the many science fiction titles I had at my disposal, I leaned more strongly toward a Farscape crossed with Firefly feel. Farscape has a cast of several alien races — including the ship Moya — but still manages to focus on story in spite of the sheer volume of aliens the writers have to describe. Bulldogs! has several alien races and a theological war, too. Firefly has close-knit relationships, all of which are human, but mixes up action and mystery to survive another day.
Now, in both shows, the crews are on-the-run. They're rogues. Renegades. Pirates. Escapees. I didn't want to mirror that in my story because I felt it was too easy and distanced itself from the heart of what Bulldogs! is. Sure, there's pirates in Bulldogs! but the galaxy is only so big and it is at odds with itself. What makes the Bulldogs! setting unique to me are the alien races and how they interact with one another. Those connections create a lot of conflict — which is great for both a game and a story.
Before I could craft a plot, though, I felt I needed to draw up the characters and use the Fate system to ground them. Enter the treatment and the characterization of the full cast and crew.
Other Parts to this Series
Constructing Redwing's Gambit: Easter Eggs – Part 5 of 5 will be published on April 23, 2012.
Constructing Redwing's Gambit: Revisions and Cut Text – Part 4 of 5 will be published on April 16, 2012.
Constructing Redwing's Gambit: Structure and Plot – Part 3 of 5 will be published on April 9, 2012.
Constructing Redwing's Gambit: Characters and Treatment – Part 2 of 5 will be published on April 2, 2012
You are reading Constructing Redwing's Gambit: Research and Background – Part 1 of 5

About Redwing's Gambit: Redwing's Gambit, the first novella for the Bulldogs! RPG, debuts today in digital. This story was written by Monica Valentinelli and will be published by Galileo Games, creator of the Bulldogs! RPG. This RPG was originally published with a d20 system in 2005. It has since been updated and released in a new edition which employs the Fate mechanic in 2011.