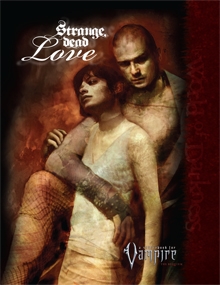 Strange, Dead Love for Vampire: the Requiem is now available! You can pick this book up in a PDF format or in softcover from DriveThruRPG.com. This new release was developed by Russell Bailey and Eddy Webb. Jess Hartley, Filamena Young, and myself were the writers. Christopher Shy was the artist who created the cover and interior art was provided by Ken Meyer, Jr.
Released yesterday, our first Strange, Dead Love review is now live, too! It's a chapter-by-chapter overview of what's in the book.
Don't forget, there's still time to visit Can Vampires Love? for your chance to win a FREE copy! Contest winner will be announced on January 3, 2012.