I'm not sure how many of you that read my blog know about DriveThruRPG.com or DriveThruComics.com. Did you know that DriveThruRPG.com is the world's largest retailer for digital hobby games? I've contributed to a few games within the gaming industry over the years. This industry has been really fun to be a part of and I'm excited for my panels at GenCon: Indy's 2010 Writer's Symposium, too.
The hobby games industry has been great to be involved with and has been a boon to my creativity and my professional career. The best part about gaming, though, is the people. Leanne, Shari and James, who composed the music for THE QUEEN OF CROWS trailer, are all people I met through gaming.
I'm pleased to announce that our project will be included in the Christmas in July sale at DriveThruRPG.com!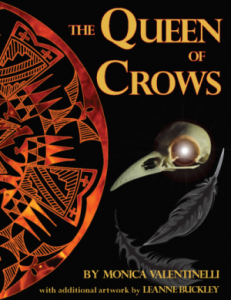 From now through Monday, July 26th at 6:00 p.m. EST, my e-book entitled THE QUEEN OF CROWS will be priced at $3.75!
There are literally thousands of digital titles on sale, so if you like to game or read, now is the perfect time to check out DriveThru. The sale also applies to comics at DriveThruComics.com, so you can read comics from publishers like Top Cow, Archaia and 2000 A.D. for super cheap.
Hope you get the chance to check out some other games and comics, too. Many of these people pour their sweat, blood and tears into their work because, like me, they love what they do. There's a lot of great products on sale, so if you're thinking about going digital, now's the time.
Catch ya later!