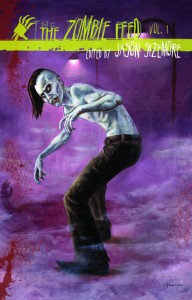 "Tomorrow's Precious Lambs" is an interesting zombie story for me, because it represented a lot of "first's". It was the focus of my first reading, it generated requests for a sequel, I wrote a gospel song while writing it, and it was also my first reprint in Extreme Zombies, too!
Published by Apex Book Company, you can find "Tomorrow's Precious Lambs" in The Zombie Feed, Vol. 1, which is the original collection filled with stories by Lucien Soulban, Maggie Slater, Simon McCaffrey and more! Extreme Zombies is also available through Prime Books and features really awesome writers like George R.R. Martin, Nancy A. Collins, and Joe R. Lansdale. Both collections are available on Amazon.com, Barnes and Noble, and wherever books are sold.
Here's a bite of the story! Enjoy the braaaaaaaiiiiiiiinnnnnnnssssssss…
Tomorrow's Precious Lambs Excerpt
Midnight. The hour when flesh walks and good, little children are stashed away like stolen diamonds. The hour when the feast begins: skin-ripping hair-raising bone-cracking crunch, crunch, crunches. The hour when my thunder stick comes out, zap, zap zapping all the way 'til dawn.
Go on down. Down to the ri-ver. Go on down and wash a-way.
One-thirty. Dog tired. Got a call from headquarters. Had to exterminate a nest out by a gas station. Was worried I was going to run out of ammo. Pause. Rewind. That's right. I didn't need to re-load. Long battery life. Couldn't use the stick like I wanted. There were too many of 'em and not enough of me. So I introduced them to my best friend and mortal enemy–C4. Crickle-crackle snap, snap, snap. Orange flames licked the corpses, ate their rotting flesh right down to the bone. Smelled like my momma's church picnic. Hungry. Nothing to eat. Found an energy shot. Slammed two of them. Made my belly hurt even more.
Come to the ri-ver. Wash, wash, wash your sins and pray.
Fell asleep at the wheel. Phone woke me up. Three a.m. Witching hour. Sergeant's on the line saying something about domestic abuse. Tell her it could wait 'til daylight. Man beats a woman down, that's bad. Man eats a woman's brain? That's the guy I'm coming for.
"Officer Mike…." Sergeant's got that disapproving tone in her voice, like she's my mother. My momma was a preacher, but she died in a fire, along with the rest of the parish. Don't know much about Sarge or how she survived. Then I remember. She sticks to the rules, because it's all she's got. It's like her feelings dried up and they were replaced with a pile of useless laws. Like my appendix. Don't know what I need it for, but it's still there.
Maybe the law is all I got, too. "Yes, sir?"
"We got a biter." Fuck. "She's twelve." Double fuck. I've been on this job too long, but not long enough. Three years. Shitty pay. Crappy benefits. Divorced. No kids. That was before the dead rose up out of their graves. Some folk thought it was the Rapture, welcomed the dearly departed back into church with open arms. Then the dead took over, gnawing on people like they were Thanksgiving leftovers. Told myself this had nothing to do with God or Jesus or the devil. This reeked of greed, something man-made, and it was up to me to find out who's responsible.
"I'll be there."