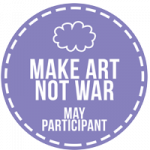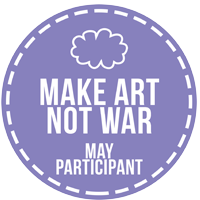 Apologies for today's late check-in. I had a nasty relapse of the cold I had last week, and spent a lot of time in bed. Figured now would be a GREAT time to cover what happens when you just cannot make art — despite all your best efforts.
Here's an interesting thing about making art: sometimes, you have to rest your brain and let ideas percolate. Focusing on one project can be detrimental to your revisions process, because you're "too close" to what you're working on. Sometimes, the way to keep making art is to have multiple projects on hand in many different styles. Knitting, crocheting, beadweaving are repetitive and have a mathematical component; putting that time in doesn't require as much mental energy as writing or drawing does, for example, unless you're following intricate patterns and creating your own. Going for walks or getting fresh air also helps, because you're doing something else in the forefront of your mind so your creative brain has a chance to catch up.
When you make art full-time, it's challenging when you have blocked days because the ideas don't stop. Ideas, however, don't pay the bills or get the words down. Usually, then, I record new ideas or free write to keep something percolating. Sometimes, though, it is impossible when you're sick. It certainly was for me, and now that I'm (hopefully) back up to full speed I feel as if I've been on a mental vacation for months!
This brings up two points I want to remind you of: first, your mileage will vary if you're participating in this program. It's possible you cannot make art every day, because that's not how you're wired. If that's the case, learning that will help you in the future because knowing how and when you produce art is valuable information to work with. Second, keep in mind that Make Art Not War 2017 is also a means of prioritizing what you want to do (making art) over all the peripheral b.s. that you may be experiencing. Then, when you're not making art, you'll feel it and (hopefully) ramp back up as fast as possible because deep down, you know you've made art your priority.
Regardless, remember to be kind to yourself. There's a big difference between having a legitimate reason to slow down or not make art versus procrastinating, being lazy, and giving up entirely. Even I have to remember that, sometimes.
Mood: Determined and plodding along
Caffeinated Beverages Consumed: Quite possibly, the worst thing about being sick is the caffeine withdrawal.
Work-Out Minutes Logged Yesterday: Light walking
In My Ears: Stupid fans
Game Last Played: Final Fantasy X-2. Finally got the Mascot dress sphere. Boo-yah.
Book Last Read: Kim Stanley Robinson's Aurora
Movie/TV Show Last Viewed: Lucifer
Latest Artistic Project: Make Art Not War 2017 Challenge and Rules
Latest Releases: In Volo's Wake for Dungeons & Dragons 5th Edition, Unknown Armies Books 1-3, and Kobold Guide to Gamemastering.
Current State of Projects: Read my latest project update. New project update coming when I get time.