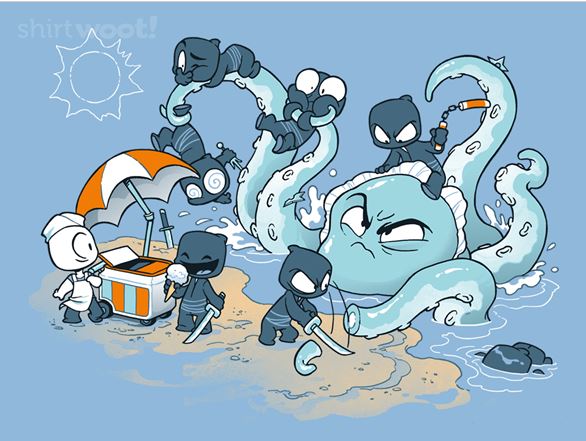 It's no secret I'm a big fan of making sure money flows to the artist. Often, I get super frustrated when it comes to T-shirts, because there's a lot of designs being taken from DeviantArt or uploaded from an artist's website — even at big box stores. For this reason, I often try to buy shirts when I know the source of the art; it does get even more complicated when adding in rights to actor's likenesses and properties, too. Mind you, I'm trying not to hit you with the Hammer o' Preachin', but as someone who advocates for artists whenever possible I feel like I have to practice what I cheer for.
Enter Shirts on Woot.com, and its pro-artist attitude. They feature the artists who submit work to them, and you can learn more about them. That, dear reader, is how I discovered the super cute collection of Unstealthiest Ninja T-shirts illustrated by husband-and-wife team Studio DoOomcat. I love this aesthetic, and there are tons of great T-shirts by Studio DoOomcat that go beyond the clumsy ninjas. I dig the Unraveller of Worlds and the cuddly octopus RAWR!.
While on the site, I discovered that one of the artists, Alison Acton, also has a cute webcomic called Bear Nuts, too. She takes commissions, which are super cheap, and this studio has a ton of options if you're interested in their aesthetic. I know I will be; I just have to figure out what I want!
For more about Studio DoOomcat, check out the Bear Cats Webcomic site and poke around some. In addition to the webcomic, both artists have done a lot of work elsewhere. There's a lot to explore and read!
Mood: Scrambling now that I'm not sick anymore!
Caffeinated Beverages Consumed: NOT MANAGED
Work-Out Minutes Logged Yesterday: Ummmm… Does typing count?
In My Ears: Dragon Age: Inquisition soundtrack
Game Last Played: Final Fantasy X-2. You have any idea how frustrating it is to find that bloody chocobo dungeon?
Book Last Read: Kim Stanley Robinson's Aurora
Movie/TV Show Last Viewed: Guardians of the Galaxy Vol. 2
Latest Artistic Project: Make Art Not War 2017 Challenge and Rules
Latest Releases: In Volo's Wake for Dungeons & Dragons 5th Edition, Unknown Armies Books 1-3, and Kobold Guide to Gamemastering.
Current State of Projects: Read my latest project update. New project update coming in May.