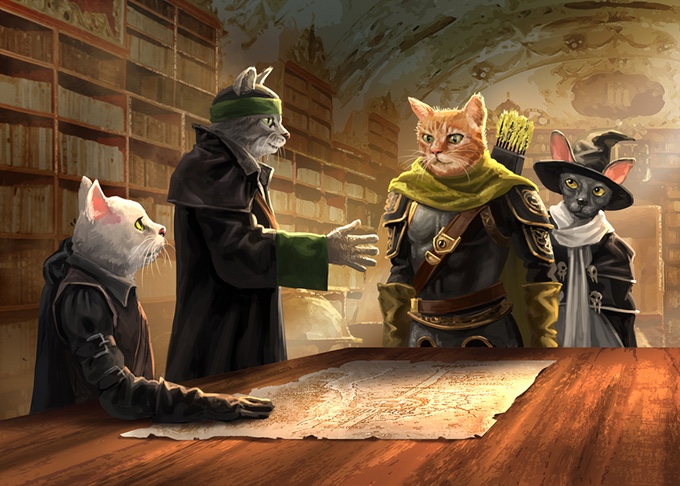 Eddy and I go way back to the days when he was working at White Wolf Publishing. I've worked with him on several projects over the years, and have been on panels with him as well. Last year was a milestone for Eddy, because he launched a new company called Pugsteady and kicked off a new post-apocalyptic fantasy game called Pugmire. In this futuristic Planet Of The Apes-meets-Dungeons and Dragons world, you play a dog trying to paw your way to a better tomorrow. Pretty cool, eh?
This week, Eddy launched a new game on Kickstarter in the same world starring cats! It's called Monarchies of Mau and, if all goes well, I'll be writing a story set in that world. If playing games is your jam, both Pugmire and Monarchies of Mau use a customized set of rules based on 5th edition. Both games are set in an ever-expanding world, and are family-friendly, too.
While I do have a vested interest in seeing Monarchies of Mau succeed, I decided to feature Eddy Webb today because I wanted to mark how significant this is for him. Unless you write comics or screenplays, many game designers and writers who work on media/tie-in settings aren't always associated with the property. Here, Eddy utilized his past experiences, connections, and interactions with fans to successfully launch projects set in his own worlds, drawing upon his imagination. The Monarchies of Mau Kickstarter funded in 20 minutes! That, for writers such as myself, is a momentous occasion because it shows our potential beyond the normal, day-to-day work that we do. To me, that's worthy of a big HUZZAH!
So, if you want an example of a writer who's literally pawed his way to to dig up…er…build a healthy and growing business for himself, look to Eddy Webb for inspiration. He's put the time in, and it shows. So happy for him!
For more about Eddy, visit his website at Pugsteady, or follow @eddyfate on Twitter and Pugsteady on Facebook.
Mood: Punny with a side of eggs
Caffeinated Beverages Consumed: More than I've had in two weeks but less than I normally do. Yes, I'm a Hobbit when it comes to caffeine.
Work-Out Minutes Logged Yesterday: Mouse to keyboard
In My Ears: "Friend of Ours" by Elbow
Game Last Played: Final Fantasy X-2
Book Last Read: Kim Stanley Robinson's Aurora
Movie/TV Show Last Viewed: Lucifer
Latest Artistic Project: Make Art Not War 2017 Challenge and Rules
Latest Releases: In Volo's Wake for Dungeons & Dragons 5th Edition, Unknown Armies Books 1-3, and Kobold Guide to Gamemastering.
Current State of Projects: Read my latest project update. New project update coming when I get time.