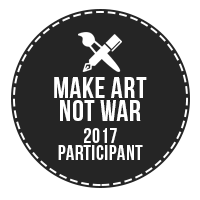 Today, I signed up for RedBubble and opened up a store. My artist's account is mlvalentine, and you can check out the mlvalentine's RedBubble store connected to my profile.
Throughout the year as my challenge continues, I'll be adding more finished pieces that are worthy of you. The proceeds I earn from this site will go toward my art supplies.
MANW Participant Badges
I am pleased to share with you that one of the Make Art Not War 2017 Challenge participants, Meredith Gerber, has created badges you can use on your websites and social media accounts. She has also designed monthly themes, too. Go Meredith!
Here are the badges so far for the MANW 2017 Challenge! To save, you can right-click and download to your computer or you can click on the image to open it up in a new tab. They are free for your personal use. I added the information for Creative Commons at the bottom of the post, too. I hope you enjoy the badges!
If you'd like to link back to my challenge, you can either: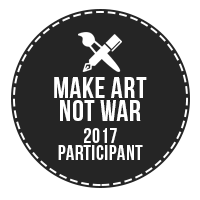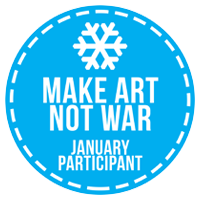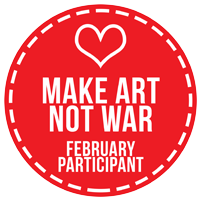 Make Art Not War 2017 by Monica Valentinelli and Meredith Gerber is licensed under a Creative Commons Attribution-NonCommercial-NoDerivatives 4.0 International License.
Based on a work at http://www.booksofm.com/wp-content/uploads/2017/02/monica200.png.