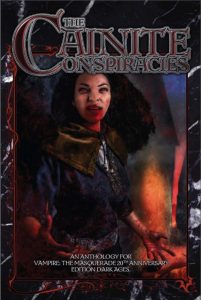 "An amazing collection of short stories inspired by the 20th anniversary edition of Vampire the Dark Ages." — Geek & Sundry
Step back into the Dark Ages…
…into a time when the clans, high and low, battle for blood and power.
Welcome to The Cainite Conspiracies
The Cainite Conspiracies is a collection of short stories edited by Monica Valentinelli. The anthology is inspired by the 20th Anniversary edition of Vampire: The Masquerade Dark Ages and features the work of Vampire: The Masquerade developers such as Justin Achilli, Eddy Webb, David A. Hill, Jr., and Neall Raemonn Price along with tales by award-winning horror authors including Maurice Broaddus, Catherine Lundoff, and Richard Dansky.
TABLE OF CONTENTS
A Vampire: The Masquerade 20th Anniversary Edition Dark Ages Anthology
Young, Gifted, and Ventrue by Maurice Broaddus

Family is Family by Renee Ritchie

Acts of Cruelty by Justin Achilli

A Quest for Blood by Russell Zimmerman
Sand and Dust by Andrew Peregrine

Incarnadine Seas by Catherine Lundoff

The Last Spark by Eddy Webb

The Hidden Stars by Jacob Klunder

Omen's End by Ree Soesbee

Eighty and Nine by David A. Hill, Jr.

Ghosts of Chorazin by Alan Alexander

Orfeo's Plague by Richard Dansky

Veil of Power by Danielle Lauzon

Goat's Nails by Neall Raemonn Price

The Cainite Conspiracies is currently available on DriveThruFiction.com in print and eBook formats.