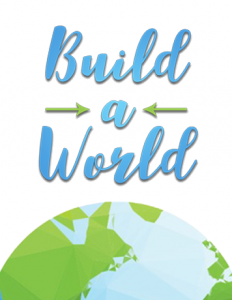 Debuting in 2014, the well-received Build-a-World Game Show is a live action worldbuilding game and writer's workshop designed and run by veteran game developer/designer Monica Valentinelli. Two teams of panelists compete to build a fantastic world in under an hour for fun and prizes. The Build-a-World Game Show incorporates audience participation, takes place in three rounds, and results in a fan-voted winner! Winners are awarded the Ring of Champions and may be serenaded by the audience.
The Build-a-World Game Show*, which has been playtested at conventions throughout the Midwest including Mo*Con X, Geek*Kon, CONvergence, the 74th World Con (MidAmerica Con II) and others, is now the centerpiece for a book of worldbuilding games designed by Monica Valentinelli.
---
Please note that this collection of worldbuilding games has not yet been sold. If you are a publisher and would like a proposal, contact Monica's agent Jennie Goloboy at Red Sofa Literary.
---
Unfortunately, Monica cannot give permission to run the game she playtested to fans, participants or audience members past or present, or other interested individuals at this time without being contacted first. Due to the success of these playtests, Monica is planning on providing lots of tips to help facilitators run and customize the game to fit their group's needs and a whole lot more! Hang on tight, there will be more information to come!
If you have any questions about this game or if you wish to become a sponsor for future events run by Monica, please feel free to contact Monica. Sponsorship of the event has, in the past, included a small donation to the charity of the winning team's choice. In 2014, for example, Alliteration Ink donated $50 to Heifer International.
* Please note, the image used for this post is a placeholder and is not the official logo or book cover. The placeholder image was designed by Meredith Gerber.