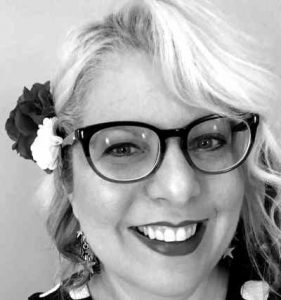 Monica Valentinelli is a writer, artist, and game developer who lurks in the dark. Her ever-expanding portfolio includes short stories, novellas, games, comics, essays, and pop culture reference books.
A frequent guest at conventions, Monica is currently known for creating the Make Art Not War Challenge and her publications set in Whedon's Firefly universe which includes the Firefly: The Gorramn Shiniest Language Guide and Dictionary in the 'Verse (2016), Firefly Encyclopedia (2018), and the award-winning tabletop Firefly RPG line.
Monica holds a B.A. in English with a Creative Writing Emphasis from the University of Wisconsin-Madison. She lives with two very spoiled cats nicknamed Lord Lardbottom and Captain Whinypants, an albino water frog named Al, and her long-time partner. In addition to writing, editing, and developing, she enjoys traveling, designing jewelry, cooking, taking photos, painting, exploring old places, and hiking.
Monica is represented by Jennie Goloboy of the Donald Maass Literary Agency. She is an Active Member of the Science Fiction and Fantasy Writers of America (SFWA) and the International Association of Media Tie-in Writers (IAMTW).
Stories
Monica's stories have been published in anthologies and magazines by publishers including Prime Books, Apex Book Company, and Stone Skin Press. Her upcoming releases include a short story titled "From an Honest Sister, to a Neglected Daughter" for Sisterhood: Dark Tales and Secret Histories (2019) from Chaosium Publishing. Watch for more short story releases later this year!
As a media/tie-in writer, Monica has written several short stories and novellas set in the worlds of Vampire: The Masquerade, Hunter: The Vigil, among others. Her emphasis on worldbuilding and experience with licensed properties has led to exciting projects such as Shadowrun's Court of Shadows (2016) which ties the tabletop RPG and the Shadowrun tarot deck together in interesting and unique ways. New for 2019, is Proving Grounds which will be published by Renegade Game Studios. Monica designed the fantasy world and wrote the story that accompanies this exciting solo card game.
In addition to her authored works, Monica has also edited anthologies such as The Cainite Conspiracies (2016) for the 20th anniversary edition of Vampire: The Masquerade Dark Ages by Onyx Path Publishing and a trope-bending collection of stories and essays called Upside Down: Inverted Tropes in Storytelling (2016) published by Apex Book Company.
For more information about her stories, visit this list of published stories by Monica Valentinelli.
Non-Fiction & Reference
Monica's non-fiction repertoire spans online articles, reference materials, and essays. She has written for sites and magazines including Uncanny Magazine, Sony's Crackle.com, SFWA.org, and BookLifeNow.com. Her most recent essays have appeared in books such as Jeff VanderMeer's Wonderbook Revised (2018) and Hath No Fury (2018). Her upcoming non-fiction release is the Firefly Encyclopedia (2018) published by Titan Books which includes a narrative re-telling of the story thus far, an analysis of the show, and more!
For more information, visit this abbreviated list of published essays and reference books by Monica Valentinelli.
Games
An industry veteran with almost twenty years' experience, Monica has worked on dozens of hobby games and has told numerous stories for tabletop RPGs and supplements, card games, interactive fiction (or LitRPGs), miniature games, mobile games, and more. Known for her attention to detail and considerate worldbuilding, Monica has lent her talents to beloved gamelines such as Firefly RPG, Dungeons & Dragons Fifth Edition, Vampire: The Masquerade 20th Anniversary Edition, Vampire: The Masquerade 20th Anniversary Edition Dark Ages, Vampire: The Requiem 1st Edition, Hunter: The Vigil 1st and 2nd Edition, Shadowrun Fifth Edition, Eclipse Phase, Prince Valiant, TORG: Eternity, Scarred Lands, All Flesh Must Be Eaten, Unknown Armies 3rd Edition, and many, many more.
Her latest game release is Proving Grounds (2019) from Renegade Games. Monica built the game world and wrote a novelette for this fun, solo card game. She also published A Happy Gnome. Illustrated by John Kovalic, a portion of the proceeds for this D&D 5th Edition character benefits the Extra Life charity.
For more information about her work, visit this list of published games by Monica Valentinelli.
Comics
Monica's debut comic "Last Man Zombie Standing" was published in 2013 as part of the Unfashioned Creatures: A Frankenstein Anthology from Red Stylo Media.
Links to Contact/Support the Author
Support Her Patreon: Monica has recently launched a Patreon! Visit her Patreon for BooksofM.
Pronouncing Valentinelli
If you know how to pronounce Tarantino, then you'll be able to say Valentinelli. Tarantino is pronounced exactly how it looks, and Valentinelli is the same way. Tar-an-ti-no versus Val-en-tin-el-li or Va-len-tin-el-li. Valentinelli simply has more syllables in it.
Short Bio for Press/Conventions
Monica Valentinelli writes stories, games, essays, and comics in her Midwestern studio. She's an artist, a former musician of 20+ years, and a graduate of the University of Wisconsin-Madison's Creative Writing program who now writes full-time. Her sanity is kept by her two cats, water frog, and her long-time partner. When she's not obsessing about deadlines, she designs jewelry and dabbles in watercolors and acrylics. For more about Monica, visit www.booksofm.com.
Awards & Accolades
Over the years, Monica has won and has been nominated for awards in games and fiction. Presented here is a chronological list of accolades for both.
Awards in Fiction
"Promises, Promises" won first place in a submission contest for White Wolf Publishing. The story was then published in the 2007 Spring Edition of White Wolf Quarterly.
"Prey" won an Honorable Mention through the MIRRORMASK 2005 fiction competition sponsored by FutureFire.net.
Awards in Gaming
Monica's accolades in gaming are for games and non-fiction books covering topics in gaming. They are:
The Firefly RPG corebook was nominated for the Product of the Year and the Game of the Year in the 2015 ENnie Awards.
Echoes of War: Thrillin' Heroics won a Judge's Spotlight Award in the 2015 ENnie Awards.
The Firefly RPG was nominated for Game of the Year in the 2015 Origins Awards.
The Escapist nominated the Firefly RPG for Game of the Year 2014.
Eclipse Phase: Rimward was nominated for a 2013 Origins Award for Best Roleplaying Supplement and a 2013 ENnies Award for Best Production Values.
UNFRAMED: the Art of Improvisation for Game Masters was nominated for two 2015 Golden Geek Awards, Best Supplement and Best Artwork & Presentation.
Other Awards
FlamesRising.com, a horror and dark fantasy zine Monica has edited and contributed to won a Silver ENnie through the hobby games industry awards at GenCon: Indianapolis in 2008.
This page was last updated on September 14, 2018.
Online Article Reprint Information: If you are interested in republishing any of Monica's online articles or blog posts for your publication, please use the contact page to submit your request. Be sure to include the name of the website or publication and how you're affiliated with it.